RENOWNED JOURNALISTS AND EXPERT ACADEMICS ON HUMAN RIGHTS TO SPEAK ON MIGRATION AND BORDERS IN ELCHE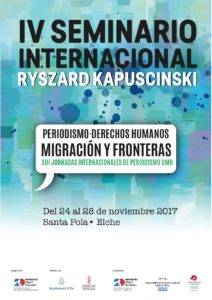 The Vice Rectorate for International Relations at the Miguel Hernández University of Elche is hosting the fourth Ryszard Kapuscinski International Seminar on Journalism, Human Rights, Migration and Borders, which will bring together leading journalists and expert academics on matters of human rights and migration. The seminar is to be held at the Elche Centro de Congresos and the Castillo-Fortaleza of Santa Pola from November 24-28.
Its program features lectures from prestigious journalists who are specialists on conflict zones in different countries in addition to migration and human rights, and they include Xavier Aldekoa, Ramón Lobo, Nicolás Castellano, Guadalupe Lizárraga, Chelo Álvarez, and Gabriela Minjares. Faculty from Polish, Mexican, and American universities are also attending, and they will closely examine the current media ecosystem in those countries. What's more, the Director of the UMH Headquarters in Rwanda Chair will provide insight on the situation in that African country.
"Los libros del seminario" (The Books of the Seminar), a collection of publications, will be presented at the event, with participants who are linked through either authorship, co-authorship, or editing. Young journalists will share their experiences from different parts of the world in the discussion held on Friday, November 24 at the Castillo-Fortaleza of Santa Pola, which precedes the inauguration of the México Fronterizo exhibition by photojournalist José Pedro Martínez.
The final events include the presentation ceremony for the Ricardo Ortega Journalism Reporting Awards, the Pepe Andreu Radio Award, and a concluding conference by journalist Enric González.
For further information about the program and the procedure for attending, click on this link.