UMH STRENGTHENS TIES WITH THE FLUMINENSE FEDERAL UNIVERSITY OF RIO DE JANEIRO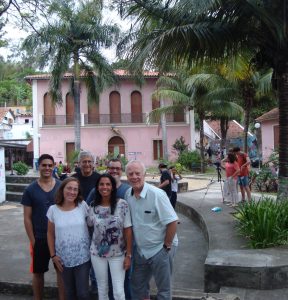 The Bachelor's in Audiovisual Communication and the Cinematography Studies at the Fluminense Federal University of Rio de Janeiro (Brazil) have laid the foundations for future joint collaboration projects to facilitate exchanges of students and faculty between both institutions, both academic and in the field of research.
The program coordinator for the Bachelor's in Audiovisual Communication, Begoña Ivars Nicolás, along with that program's area coordinator, Montserrat Jurado Martín, visited various Brazilian universities during the month of December to formalize exchange agreements to facilitate joint projects and study stays for both Brazilian and Spanish students.
Begoña and Montserrat presented the results of the International Student Film Project (ISFP) for the shooting of short fiction and documentary films in an environment of international coproduction, wherein students from at least three universities from different countries collaborate during the month of July on various productions. In particular, the Fluminense Federal University expressed strong interest in joining the ISFP project for upcoming editions.
Moreover, the two academics presented the undergraduate programs of Audiovisual Communication and Journalism, the Master's in Innovation in Journalism program, the Study Abroad program by the Vice Rectorate for International Relations, and the Miguel Hernández Communication Journal (MHCJ) that is published by the Department of Social and Human Sciences. Their stay was funded by the Support for the Internationalization of Schools, Faculties, and Research Institutes program (AIEFI) organized by the UMH Vice Rectorate for International Relations in collaboration with the Audiovisual Communication and Journalism programs.