SUMMER 2018 UMH VOLUNTEER PROGRAM IN RWANDA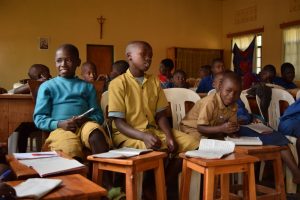 The Vice Rectorate for International Relations at the Miguel Hernández University of Elche (UMH) has announced the Call for Volunteers in Rwanda for stays lasting about a month during either July, August, or September 2018. The deadline for sending applications ends Friday, March 16.
For further information, you may attend any of the upcoming informative sessions on the UMH Volunteer Program of International Development Cooperation in Rwanda. This year will mark the program's eighth edition. Juan José Ballesta Payá, Development Cooperation Area Director and experienced expert on the realities of the UMH Rwanda project, will explain the basics of the Rwanda 2018 Volunteer Program call in these sessions, and he will gladly answer any questions that you may have.
INFORMATIVE SESSIONS
| | | |
| --- | --- | --- |
| CAMPUS | DATE AND TIME | LOCATION |
| Orihuela Desamparados | Tuesday, March 6, 12 – 2 p.m. | Room 0.1, Tudemir Building |
| Altea | Wednesday, March 7, 12 – 2 p.m. | Room 2, Albir Building |
| Sant Joan d'Alacant | Wednesday, March 7, 3 – 5 p.m. | Room 7, Francisco Javier Balmis Building |
| Elche | Monday, March 12, 12:30 – 2:30 p.m. | Undergraduate Room, La Galia Building |
| Orihuela Salesas | Monday, March 12, 3 – 5 p.m. | Room 2.2A Casa del Paso Building |
For further information, send an email to sederuanda@umh.es or see the webpage at http://cooperacion.umh.es