UMH SIGNS A COLLABORATION AGREEMENT WITH A JAPANESE UNIVERSITY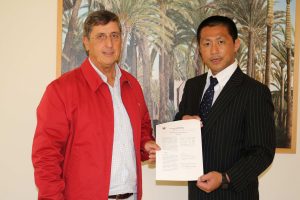 The rector of the Miguel Hernández University of Elche (UMH), Jesús Pastor Ciurana, and the vice president of the International Pacific University (IPU) of Japan, Tomohiko Jano, have signed a collaboration framework agreement. This agreement's objective is to strengthen links for working on tasks of cooperation and exchange on teaching and research levels alike. This signing marks the first agreement between the UMH and a Japanese university.
The IPU is one of the world's most prestigious universities in research related to judo–it is home to one of Japan's most important teams, and it trains the Japanese national team. The agreement will also enable further examination of scientific and academic issues through the Center for Research in Sports Science, in addition to those of transfer, given the experience of UMH assistant professor from the Area of Physical and Sports Education, Carlos Montero, a national coach of this discipline.
Also in attendance during the signing was Eduardo Cervelló, director of the Center for Research in Sports Sciences, along with Carlos Montero, who traveled to Japan a few months ago to boost relations with the Japanese university thanks to assistance from the Destino Program, promoted by the Vice Rectorate for International Relations.