MACEDONIAN BUSINESSES AND INSTITUTIONS VISIT THE UMH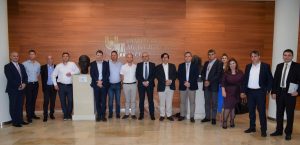 The Deputy Vice Rector for International Relations – Internationalization at the Miguel Hernández University of Elche (UMH), Ausias Garrigós Sirvent, welcomed an international delegation of businesses and institutions from the Republic of Macedonia. This visit saw the delegation, led by the mayors of Strumica, Kavadarci, and Gostivar, tour UMH facilities and its Scientific Park.
The visit was organized the UMH Vice Rectorate for International Relations, through its Service of International Relations, Development Cooperation and Volunteerism, along with collaboration by the Finnova Foundation in Brussels (http://finnova.eu). Both institutions have established links so that students from the undergraduate programs of Law, Political Science & Public Administration, Business Administration & Management (ADE), Journalism, in addition to various engineering programs can carry out training internships at its Belgian headquarters, in direct contact with several European Union institutions.
Further information is available through the UMH Service of Communication here.