REPRESENTATIVES FROM SHENZHEN UNIVERSITY (CHINA) VISIT THE UMH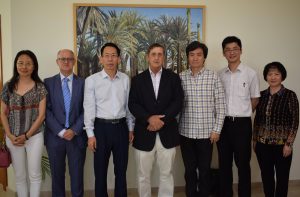 A delegation from Shenzhen University, located in Guangdong Sheng, China, visited the Miguel Hernández University of Elche yesterday in an action organized by the Vice Rectorate for International Relations, and in which officials from the UMH deans' offices of Fine Arts, Health and Social Sciences, and Engineering participated due to significant interest shown by the Chinese representatives for cooperation in these areas between both universities. Likewise, the Shenzhen University representatives also met with UMH Rector, Jesús Pastor Ciurana.
During the meeting, both universities showed presentations of their respective institutions, and different options for cooperation and mobility between them were discussed. The Chinese delegation toured athletic installations on the Elche Campus along with the Scientific Park, where its Director of Funding and Business Development, Sergio Román, explained the work going on there in terms of business development. Furthermore, the Chinese visitors were able to gain some insight into various business and research ventures at the park, such as those led by AntalGenics, Simplicity Works, and Emxys.
In attendance at the meeting of the universities included the Vice Rector for International Relations, Vicente Micol, Deputy Vice Rector for International Relations – Internationalization, Ausias Garrigós, Deputy Vice Rector for International Relations – Mobility Activities, África Martínez, and the Director of the Service of International Relations, Development Cooperation and Volunteerism, Inmaculada Blaya. Representing Shenzhen University were Vice President Du Hongbiao, Deputy Director of the International Office, Peng Xiaogang, Dean of Normal College, Zhong Xi, and the Director of Collaboration Projects at that faculty, Tang Zhenhua. Moreover, UMH faculties were represented by the Dean of the Faculty of Fine Arts, José Vicente Marín, Deputy Director of International Relations for the School of Engineering of Elche (EPSE), Alberto Rodríguez, and the Dean of the Faculty of Health and Social Sciences, Francisco José Vera.