University community members participate in the UMH development cooperation program in Rwanda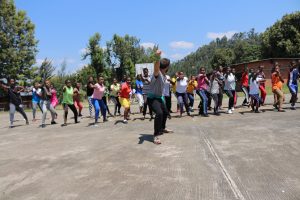 This summer, 24 university community members are traveling to Rwanda to participate in the international development cooperation and volunteerism program that is run by the Miguel Hernández University of Elche.
During the month of July, eight persons are teaching mathematics and computer classes for the faculty and student bodies at the schools of Nemba and Ruhengeri. Other UMH team members are assisting in the maternity, pediatric, and psychiatric wards at the Nemba hospital, and with their help, the hospital is holding workshops on hygiene for its health professionals.
Volunteers are also giving martial arts classes for school students. The aim of this training is to instill body control and awareness in the students, in addition to them gaining good emotional regulation subsequent to taking part in these exercises.
This is the eighth summer that the Area of Development Cooperating and Volunteerism at the Vice Rectorate for International Relations has sent volunteers to participate in this cooperation program in the central African country, but the UMH relationship with Rwanda began in 2002. That year marked the start of a project of a maternity ward in the Katindo neighborhood; this was then followed by the construction of a nursing school in Ruhengeri that has since trained more than 50 professionals every year.
One result of these extensive development cooperation efforts was the creation of the UMH Headquarters in Rwanda Chair. This institutional platform links, studies, and publicizes activities and projects involving training, research, and construction of infrastructure that takes place on the fifth UMH campus.