UMH SIGNS A COLLABORATION AGREEMENT WITH TWO MULTINATIONAL SPORTS COMPANIES
The Vice Rector for International Relations at the Miguel Hernández University of Elche (UMH), Vicente Micol, recently signed a cooperation agreement with the sports companies of Sport Mate Marketing and Sockatyes. This agreement's objective, among others, is to strengthen development of sports devices and techniques and research in the area of sports.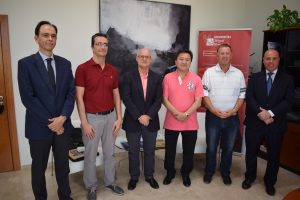 Objectives common to the signatory parties have resulted in the proposal of various actions. Included among the agreed-upon activities are academic exchanges and cooperation in education and scientific research; the organization of conferences, seminars, workshops, and other events between academics and experts; the search of routes for exchanges with graduate students and professionals, and collaboration in sporting events.
Present at the signing ceremony were Vicente Micol, UMH Vice Rector for International Relations; Francisco Moreno, UMH Vice Rector for Student Affairs and Athletics; Manuel Alejandro Sola, international collaborating agent for the UMH in China; and Russel Pointon, the founder of Sockatyes.
Sport Mate Marketing is a sports marketing and advertising company that helps businesses gain global visibility through international sports sponsorships, sporting activities, and presence in global social networks. Furthermore, Sport Mate Marketing develops, along with universities including the UMH, innovative training projects directed at professionals from the sports sector. Sockatyes, for its part, has become an internationally recognized platform for sports equipment, marketing, and advertising that serves the markets of professional sports, fans, student athletes, and youth sports.