CONCLUSION OF THE EIGHTH EDITION OF THE UMH VOLUNTEER PROGRAM IN RWANDA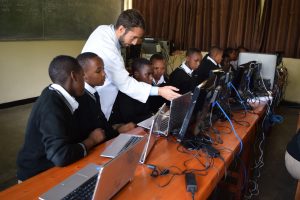 The UMH Volunteer program in Rwanda recently finished its eighth edition after three months of activity in that African country. During July, August, and September, 24 people carried out stays there to collaborate with various projects from the cooperation program in Rwanda that the UMH manages through its Vice Rectorate for International Relations and the UMH Headquarters in Rwanda Chair.
Faculty, students, and alumni from various programs (pharmacy, medicine, physiotherapy, psychology, physical activity and sports sciences, agro-food and agro-environmental engineering, journalism, audiovisual communication, journalism, and business administration & management) worked throughout three months at the Nemba Hospital, Nemba high school, and the Higher School of Sciences of Musanze, the three main institutions that the UMH has collaborated with for over 10 years.
UMH volunteers provided teaching support at both schools, giving classes of English, biology, mathematics, physical education, as well as other subjects, in addition to training faculty at the Higher School of Sciences of Musanze in computer science and advanced English. Tasks at the Nemba Hospital included training its health personnel and providing support for specific units, including physiotherapy and mental health, in addition to social and healthcare for its psychiatric and pediatric patients. Moreover, efforts were made on other specific programs, such as the compilation of audiovisual material for a documentary and design work for the UMH Headquarters in Rwanda Chair webpage. This year, as a novelty, the volunteers were provided with training on aspects of development cooperation, as well as the Sustainable Development Goals of the United Nations 2030 agenda.