Vice Rectorate for International Relations initiates contact with institutions of higher education in Singapore
Deputy Vice Rector for International Relations – Internationalization, Ausias Garrigós, met in Singapore with the Director of the University of Glasgow, Singapore, Professor Goh, along with representatives from Ngee Ann Polytechnic (Singapore), with the objective of promoting and managing collaboration and mobility agreements with Singaporean institutions of higher education.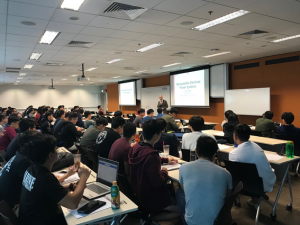 In addition to his meetings, professor Garrigós also gave an international lecture at the Singapore Institute of Technology (SIT@NP) for undergraduate students of aerospace engineering and mechatronics, at the invitation of professor Lim from the University of Glasgow-Singapore. These actions were financed by the Destino Docencia 2018 program of the UMH Vice Rectorate for International Relations.