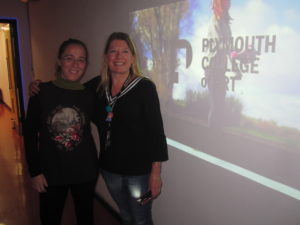 Representatives from the Bachelor's in Audiovisual Communication visited the Plymouth College of Art (United Kingdom) in an effort to strengthen links on issues of collaboration in the International Student Films Project, which will hold its inaugural edition this July. The objective of the visit was to define lines of collaboration in this short film co-production initiative, in which students from various international universities participate.
This British university is being considered to be the host of the project in 2020, a date that coincides with the international celebration of the 400th anniversary of the departure of the Mayflower from the port of Plymouth for the New World.
During her stay, Area Coordinator for projection of the Bachelor's in Audiovisual Communication, Montserrat Jurado, had the opportunity to learn about the film project firsthand to improve the quality of Erasmus student exchanges in addition to strengthening academic, research, and teaching activities. The film program coordinator was especially interested by the itinerant International Student Films Project and how to incorporate students in upcoming editions.
This project, promoted by the Audiovisual Communication program, and in which journalism students will participate, is supported by the Vice Rectorate for International Relations, and for its first edition with collaboration by the International Independent Film Festival of Elche.