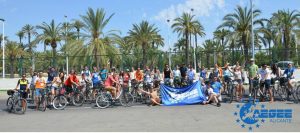 The Miguel Hernández University of Elche will welcome 25 students from various European universities for the Summer University international week, which has been organized by AEGEE-Alicante (Alicante chapter of the European Students' Forum).
From July 17 – 29, the participants, whose ages range from 18 -30, will travel to Spain from countries such as Russia, Hungary, Greece, Holland, and Azerbaijan, among others. This is the first year that participating students will stay in accommodations on Elche Campus facilities during their stay. The UMH Vice Rectorate for International Relations is collaborating in the event in matters of organization and logistics.
This Summer University event, under the artistic slogan of 'cinema,' will offer various dynamics, engage in discussions, visit neighboring locales, and hold workshops in La Galia Building on the Elche Campus of the UMH. The students present will be introduced to products and traditions from the province of Alicante, which in turn will enable them to act as ambassadors of these values in their countries of origin.
Furthermore, the international week is holding events that are open to both the public and the entire UMH community. These include rafting, which will take place on Monday, July 22, and a visit to the Fuentes de L'Algar waterfalls and the town of Altea, on Friday, July 26. In order to participate in these events, this form must be completed either on or before July 15.
The AEGEE-Alicante Summer University is an event of international dimensions, the objective of which is to publicize the culture of the province of Alicante while it creates an environment for learning and cultural exchange among European youth, which in turn enhances the visibility of the UMH and province of Alicante throughout the European Community. Every year, this project attracts more than 2,000 youngsters from all over Europe.
The European Students' Forum, or AEGEE, is an international association present in 40 countries with some 13,000 members, the most of which are university undergraduate and graduate students. The values the association promotes include personal development and non-formal education, cultural exchange, active citizenship, and furthering organizational skills in youth.