Make an appointment and complete your procedures electronically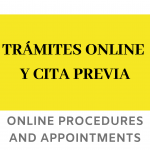 During the ongoing Covid-19 health crisis, the Service of International Relations, Development Cooperation and Volunteerism is prioritizing providing services via email to and from the following addresses, as well as over the telephone with the numbers that appear in its phone directory. Face to face appointments may be scheduled for matters that cannot be resolved electronically by sending an email to .


INTERNATIONAL MOBILITY FOR DESTINO, ERASMUS, AND SICUE STUDENTS
VISITING STUDENTS
MOBILITY FOR FACULTY & RESEARCH PERSONNEL AND ADMINISTRATIVE & SERVICES PERSONNEL
EUROPEAN PROGRAMS
ERASMUS+ INTERNATIONAL PROGRAMS WITH PARTNER COUNTRIES
DEVELOPMENT COOPERATION AND VOLUNTEERISM
OFFICIAL EXAMINATIONS:
Furthermore, please keep the following in mind:
Any administrative procedures must be completed via the UMH Electronic Office. If you specifically want to submit a request to this service (or any UMH organ or entity), this must be completed via Instancia General.
In accordance with the royal decree, terms have been suspended and deadlines interrupted for the processing of procedures by public sector entities. Such terms will be reinstated and such deadlines resumed at the moment the royal decree or any amendments to it expire (…). Statutes of limitations and expiries of any actions and rights are hereby suspended during the current state of emergency and, where applicable, any amendments to it that are adopted.
UMH institutional information regarding measures adopted for the current crisis can be consulted in Spanish at this link.