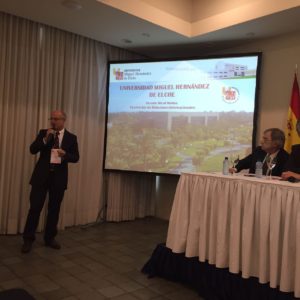 Vicente Micol, Vice Rector for International Relations, attended the Seventeenth Meeting of Rectors held at the Federal University of Pernambuco (Recife, Brazil) to pitch UMH membership into the Grupo Tordesillas, an academic network created in 2000 and made up of universities in Brazil, Portugal, and Spain that aims to foster collaboration between universities in these three countries in the field of science and technology.
During the general assembly held last week in Recife and presided over by the Federal University of Pernambuco Rector, the UMH was admitted as a member of this network. Participation will facilitate cooperation between the UMH and more than 50 universities belonging to the group, as well as opting to participating in and formulate initiatives by the very group such as the Colegios Doctorales Tordesillas (Tordesillas Doctoral Colleges).
These structures were conceived to further academic and scientific collaboration between research groups and departments at the institutions belonging to the group, as well as facilitate mobility between their students and faculty. Currently, the UMH maintains collaboration agreements with 17 Brazilian universities that make bilateral movement of our students and faculty possible.