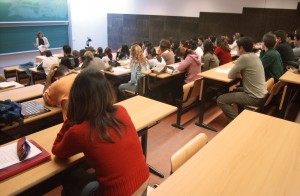 NEW (07/07/2020): Academic situation for international mobility students for the 2020-2021 academic year: July 2020 COVID-19 letter to university student partners
Institutional Coordinator
Vicente Micol Molina, PhD
Vice Rector for International Relations
Service of International Relations
La Galia Building. First Floor.
Avenida de la Universidad, s/n
03202 Elche, Spain
Phone: +34 96 665 8710 – Fax: +34 96 665 8705
Email: incoming@umh.es
ACADEMIC CALENDAR available HERE.
Institutional key data sheet available HERE

Fall semester: September 17, 2018 – January 11, 2019.

Fall semester exams: January 16 – February 6, 2019.

Spring semester: February 7 – May 29, 2019.

Spring semester exams: June 1 – 22, 2019.
APPLICATION PROCEDURE
We need the nominations from the home university. Once we have been provided with the contact details of the nominated students, we will contact them directly and provide them with all the necessary forms and information about their applications. Students have to print the forms, complete them, get them duly signed and stamped by the authorized people, and send them by ordinary mail to:
Universidad Miguel Hernández de Elche
Oficina de Relaciones Internacionales
Edificio La Galia
Avenida de la Universidad, s/n
03202 Elche, Spain

We will also accept scanned, completed documents in PDF format, sent by email to movilidad@umh.es.
For an application, we need:
One passport size photograph.
Certificate of knowledge of Spanish (minimum Level B1 DELE). Medicine, occupational therapy, podiatry, and physiotherapy students need a Level B2 DELE.
A copy of the student's national identity card (for EU members) or passport (non-EU members).
A copy of the student's health insurance, either private or the European Health Insurance Card.
Once we have received all the necessary documents, duly authorized by the respective ERASMUS coordinators of each faculty and by the institutional coordinator, we will send the authorized Learning Agreement back to the international/ERASMUS office of the respective home university in order to be retrieved by the student, together with the Letter of Acceptance.
For matriculation, the authorized Learning Agreements must be returned to the campus management center (CEGECA) upon campus arrival.
If you need to change your Learning Agreement, you have to fill in the Changes to the original Learning Agreement document and send it to us.
MIGUEL HERNANDEZ UNIVERSITY CAMPUSES
The Miguel Hernández University has four campuses: Elche, Sant Joan d'Alacant, Altea, and Orihuela.
Faculties and Schools are located as follows:
Elche Campus

Sant Joan d'Alacant Campus

Altea Campus

Orihuela Desamparados Campus

Orihuela Salesas Campus
HOW TO GET TO THE MIGUEL HERNÁNDEZ UNIVERSITY
Elche is in a truly privileged location 20 km from Alicante. It is in a strategic position, forming, together with other nearby towns, the southern axis of the Mediterranean Arc, a district that boasts great dynamism in both demographic and economic terms.
Elche is in an area with good land, sea, and air connections. The Alicante-Elche Airport (ALC) is located within its boundaries and it is also close to the provincial capital's sea port. Road connections are also good, linking it to Mediterranean tollways and the freeway to Madrid, while its rail links include a station for Spain's AVE bullet train.
Sant Joan d'Alacant is located 10 km north of Alicante. There are two bus routes from Alicante (lines 20H and 23).
Orihuela is located 30 km south of Elche. There are regular buses or trains from Elche and Alicante.
Altea is located at 53 km north of Alicante. Arrive to Altea by taking a bus from the airport or from Alicante or by using the TRAM from Alicante.
To get from the airport to your campus, the following options are available:
By taxi: there are several taxi companies operating at the Alicante-Elche Airport.
By bus: to Alicante, Altea, and Elche from the Airport.
By train: from the railway station in Alicante, Avenida de Salamanca s/n. Tel: +34 902 240 202, you can take a train to Elche and to Orihuela: http://www.renfe.es/cercanias/.
From the railway station in Elche, Avda. del Ferrocarril Este, 10, 03202 Elche; Tel: +34 96 545 6254, you can take a train to Orihuela or Alicante.
By TRAM: To Altea from Alicante. TRAM
WHAT TO DO WHEN YOU ARRIVE AT THE UMH
Once students arrive at their
respective campus
, they should go to its campus management center (
CEGECA
) in order to matriculate and to complete the Certificate of Arrival provided by their home university. Students will have to show a copy of the authorized Learning Agreement (duly signed by both parties) in addition to their national identity card (EU members) or passport (non-EU members) in order to be identified.
If students need help during their first days at the UMH, the student delegation of each faculty will provide them with the necessary assistance.
ACCOMMODATIONS
To book your accommodation before your arrival, Universitas Miguel Hernández recommends HousingAnywhere, the international housing platform for students and trainees. Through HousingAnywhere you can safely book your new accommodation, offered by verified private landlords and by outgoing students. You can easily recognize the rooms offered by outgoing students thanks to the "Verified Student" VIP badge on their profile.
Sign up here to receive an UMH VIP profile and priority access to the listings: https://housinganywhere.com/elche–spain/umh/sign-up
For more information contact vip@housinganywhere.com
The student delegation of each faculty will help incoming ERASMUS students find accommodations near the campus in private apartments, which are normally shared with other students, ERASMUS, or locals. Students should contact the student delegation of their faculty before their arrival at the UMH. Please note that the student delegation will be closed during August, so contact should be made before then. Students can also search for accommodations by directly contacting owners from our Programa Nido database.
SPANISH LANGUAGE COURSES
We offer intensive
Spanish Courses
starting three/four weeks before each semester and also non-intensive Spanish courses during both semesters. Applications for these courses will be online.
For more information, please visit our website: https://internacional.umh.es or contact us at movilidad@umh.es
WELCOME DAYS
The Miguel Hernández University organizes a Welcome Day in October for Fall semester and another in March for Spring semester so that ERASMUS and local students can meet one another.
Guide to visiting Elche: http://www.visitelche.com/guia-visitelche/
For further information, please don't hesitate to contact us at movilidad@umh.es