INCOMING
WELCOME DAYS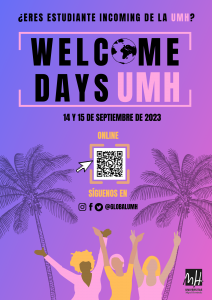 Welcome to Miguel Hernández University!
To properly welcome you to the UMH, we have prepared online activities wherein we will provide you with all the advice and information so you can fully take advantage of your experience with us. Check out our Welcome Days!
On September 14 & 15, 2023 we will be waiting for you from 1:00 p.m. – 2:30 p.m. local time so you can begin learning about our university.
* Invitation: sent by email yo Incoming, Destino and SICUE UMH students.
* Deadline: September 12 at 12:00 am.
During these days you can find out about:
The people who manage university services
How to submit documentation
Possibilities for finding housing
Libraries
University facilities
Athletic and health offerings
Cafeterias and restaurants
Cultural offerings
Erasmus club
Buddy program
We have prepared virtual meetings over Google Meet with UMH personnel who will resolve your doubts and explain only as they can, everything available to you at our university. We are sure that your stay here will be unforgettable.
*Program subject to possible changes.

WELCOME DAYS PRESENTATIONS
---
PREVIOUS WELCOME DAYS:
---
Service of International Relations, Development Cooperation and Volunteerism
Location
La Galia Building, 2nd floor
Miguel Hernández University of Elche
Avenida de la Universidad, s/n
03202 Elche, Spain
Telephone: +34 96 665 8710
Fax: +34 96 665 8705

Locate the Service of IR in a map
Business hours
Monday thru Friday
From 9:00 a.m. to 2:00 p.m.