UMH study abroad programs
Study Abroad UMH Programs
What do they offer?
1. Multidisciplinary academics
Training stays at the Miguel Hernández University of Elche (UMH) complement higher education programs taken within your country of origin, thus facilitating the internationalization of your curriculum.
2. An understanding of Spanish culture
Learn about cultural, historical, and linguistic aspects of Spanish lifestyles and customs.
3. Training and Internationalization
Responds to the needs of students while providing opportunities to interact with students and faculty from other countries.
---
To choose from two Types
1. Short Courses
Specific training that is both applied and practical, combining classroom instruction with activities taking place outside the university. Two weeks is the minimum stay. You may consult the Short Courses at this link.
2. Internship Program
Access to a professional environment in either academia or business.
Guided by professional instructors and the buddy program with a local student.
Advance leadership and professional skills in the selected area.
Visits to companies in the most representative industrial sectors of Alicante.
Participatory and shared activities with other internship students.
Cultural and leisure activities in the province of Alicante (several locations).
Intensive Spanish language courses.
Full access to university facilities and services.
And also…
Attractive training, cultural and leisure one-day activities. Workshops to promote your talent, entrepreheurial training activities, visits to Orihuela, Elche and Alicante, activities with other internship students.
Through two types of on-campus internships:
INTERNSHIPS
Two types are taking place at:
UMH departments, institutes, and administrative services: Communication, Engineering, Mechanical Engineering, Energy, at the Institute of Bioengineering, Institute of Molecular and Cell Biology, Service of Communication, Service of International Relations.
UMH Scientific Park: Aerospace, Optical & Photonic Technolo-gies, Renewable Energy, Social Network De-velopment, Language Instruction, and Management of the Scientific Park.
INTERNSHIPS+
These monitored educational experiences provide expertise and skills related to an academic field of study plus technical courses taught by instructors focused on the particular subject matter of the internship position-engineering and international relations.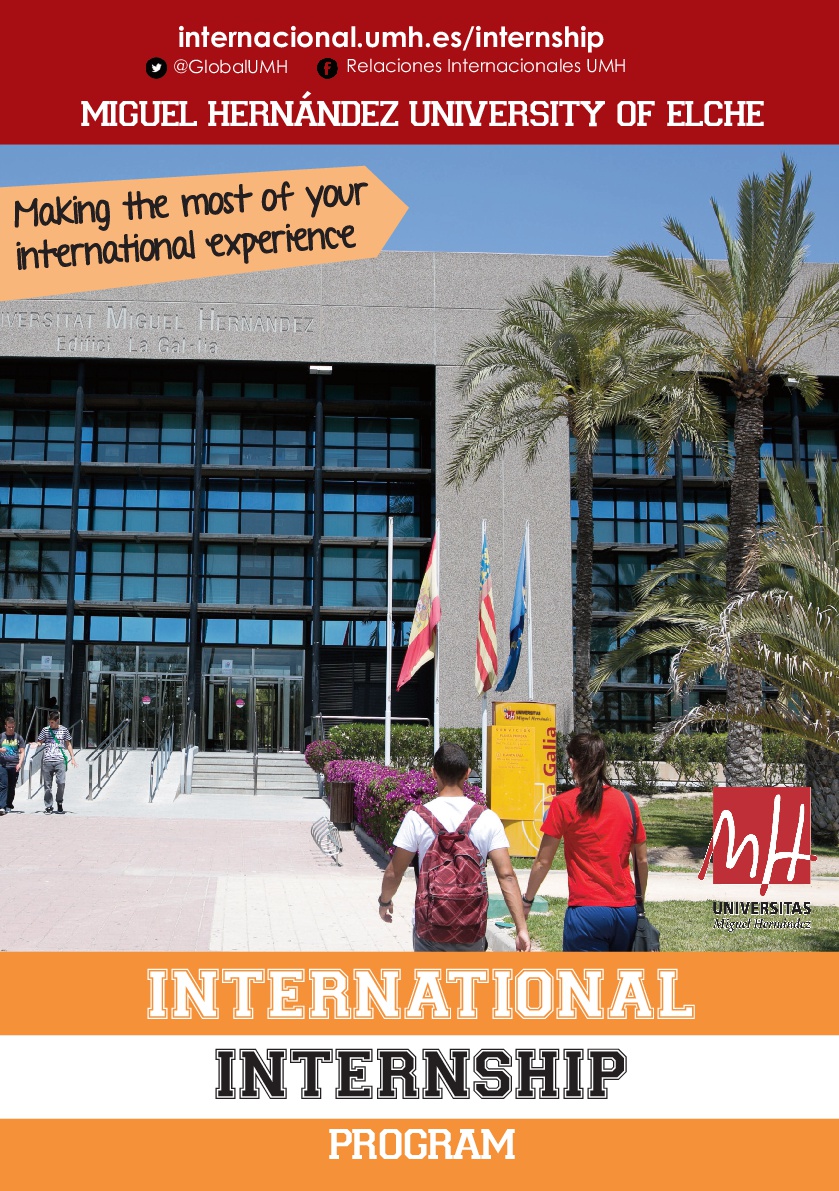 Download the brouchure: Internships
Programs you can choose: Internships Programs