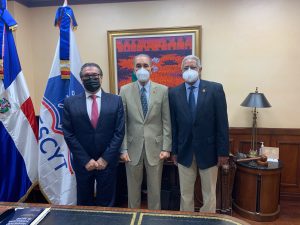 The Minister of Higher Education, Science and Technology (MESCyT) from the Dominican Republic, Dr. Franklin García Fermín, welcomed representatives from the Miguel Hernández University of Elche (UMH), professor Joaquín Pastor Pérez, Ibero-America Espejo Program Director, and Dr. Modesto Reyes Valentín, for work meetings in Santo Domingo from November 9 – 13. Following discussions on the project to implement various in-resident doctoral programs to be taught by the UMH at several Dominican universities, the minister expressed his firm intention to fund these programs to facilitate the incorporation of PhD-holding faculty into the Dominican system of higher education.
According to the proposal by the ministry, the doctoral programs offered in 2021 would be agro-food, environmental, and statistical sciences, and all at the Autonomous University of Santo Domingo (UASD). A public health, medical & surgical sciences program would be offered at O&M University, and this institution's Director of the Faculty of Medicine, Dr. Eddy Pérez-Then, welcomed the UMH academics with the objective of ensuring the implementation of the aforementioned doctoral program.
During their visit, the UMH delegation also met with Dominican vice ministries of higher education on matters of common interest. Discussions also took place with vice rectors and deans from the Autonomous University of Santo Domingo to address the verification and validation process of the doctorates to be taught by UMH faculty at that Caribbean university.
Furthermore, the UMH toured the Pontificia Universidad Católica Madre y Maestra (PUCMM), and talked with its Vice Rector for Research and Innovation, Dr. Kiero Guerra-Peña, to establish terms for collaboration between both institutions.