Student Life
Miguel Hernández University Campuses
The Miguel Hernández University has four campuses: Altea, Elche, Orihuela, and Sant Joan d'Alacant. Faculties and Schools are located as follows:
Elche Campus

Sant Joan d'Alacant Campus

Altea Campus

Orihuela Desamparados Campus

Orihuela Salesas Campus
---
Student Delegation
You may visit the Student Delegation facilities on each UMH campus, within which the AEIOU (Atención al Estudiante y Orientación Universitaria, Student Services and University Orientation) offices are located and where they will help you resolve any questions you may have. Their offices are found at:
Sant Joan d'Alacant Campus
Buddy and tandem programs
In order to assist you during your first days at the UMH, the Service of International Relations offers the BUDDY Program to mentor foreign students. We recommend that before visiting our university, you consult their blog or contact the SIR. They will assign you a student tutor whose job is to help you integrate into the UMH and learn about all our university can offer. Furthermore, if you would like to practice speaking Spanish and seek friendships with Spanish students who are interested in learning your language, you can participate in the TANDEM Program for linguistic exchange through the SIR.
---
Online information
After enrolling at the UMH as an exchange or visiting student, you will form a part of the UMH community. Your enrollment will provide you a user name and UMH email address (format: ). This user and its corresponding password will provide you with personal access to all the online information concerning courses, teaching faculty, hours, examinations, office hours, etc., in addition to announcements about cultural activities, course offerings, and general UMH information.
---
UMH Intelligent Card
We advise you to request the UMH Intelligent Card at the campus management center (Centro de Gestión de Campus) on your campus. This card will allow you to identify yourself as a UMH student, it provides interesting discounts in bookstores, shops, for leisure activities, etc. Moreover, it also functions as a debit and credit card (if you request this option). The Intelligent Card is also utilized for borrowing library books, accessing UMH installations, and the virtual secretary. The virtual secretary allows you, via the terminals distributed throughout the four university campuses, access to services like consulting academic records, asking for certifications, paying academic tuition, and consulting the academic calendar.
---
UMH libraries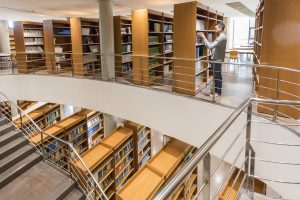 On each UMH campus, there is a library specialized in the courses taught on that campus. With your Intelligent Card, you may check out books and other documents there at the loan and consultation services. Borrowing book stock and document collections belonging to the UMH can be done at any library, independently of either the document's or user's location. Returning borrowed material can also be done in the same way at any UMH library. You can also renew online the books you have borrowed. The book stock of our university is available to you through a search engine. If you would like to photocopy an authorized article or document, there is a photocopier in the lobby of each library. To use these, you need to purchase a card at the copy service.
The libraries possess computers with internet connections for the university community. WiFi access is also available for your electronic equipment; request information about the wireless connections at the loan desk in each library.
The UMH libraries' hours of operations are the following:
Altea and Orihuela campuses: continuously from 8:30 a.m. – 9 p.m.
Elche and Sant Joan d'Alacant campuses: continuously from 8 a.m. – 9 p.m.
The hours of operations of the UMH libraries may vary when class is not in session and during holiday periods as well; consult these on the library website. The UMH also has study halls available for students throughout the entire academic course. During examination periods, the UMH provides 24-hour study halls. The timetables and availability of these halls are announced via the online personal access to all UMH students.
---
Athletics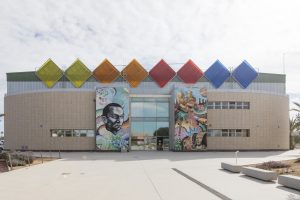 The UMH offers a large variety of sports to participate in, as well as sporting installations, training courses, and open-air activities you can sign up for during your stay. The Office of Healthy Campus and Sports, located in el Elche Campus, informs of many possibilities. Check the Office of Healthy Campus and Sports website.
Most of the sporting installations at the UMH are located on the Elche Campus. It has paddle tennis courts, a pool, multi-sport courts, and a golf course. At the UMH Sport Pavilion, there are multi-disciplinary rooms where you can practice dance, wrestling, spinning, fitness, aerobics, boxing, gymnastics, Pilates, or have a cardiovascular workout to help keep fit. The Orihuela Campus also has paddle tennis courts, a rugby pitch, and multi-sport courts.
To participate in UMH sports, you can acquire the TDU Sporting Card (TDU Tarjeta Deportiva); highly recommended if you would like to take part in several sports or would like to combine sporting participation with attending the UMH gymnasium, among others. You can acquire this card from the Secretary of University Extension; to do so you must provide a passport-sized photo, and this will then provide you access to the weight room and the pool, among other options. If you would like to reserve a multi-sport or paddle court, send an email to . To acquire a pool voucher, visit the concierge in the Altabix and Hélike buildings.
Throughout the semester, the Secretary of University Extension – Sports offers the possibility of practicing multiple sporting activities; the proposals will arrive via email or via online personal access as a UMH student. If you would like to sign up for competitions with the UMH sports teams, contact the Secretary of University Extension – Sports for information on how to do just this.
---
University Culture and Extension
Throughout the year, the Vice Rectorate for Culture organizes multiple showings, organized visits, recitals, literary, painting, and photography contests, etc. Inform yourself about all their activities by visiting their blog. You will also receive information via your email or personal access as a UMH student throughout the course. Examples of these activities include the UMH Choir, Celda 1009 and Urbá theater groups, university tuna singing groups, in addition to courses and workshops.
---
Radio UMH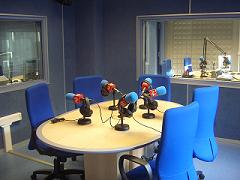 The university radio station broadcasting to the university community offers various programs about science, debate, current affairs, sports, etc. Its programming is produced and organized by the university community (students, faculty, and staff). If you would like to collaborate with Radio UMH or participate in any of its programs, send suggestions or propose other areas of interest to . You can find information about the radio programming and listen to Radio UMH online.
---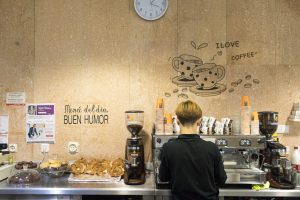 University cafeterias and dining halls
There are cafeterias and university dining halls on all campuses. In Elche, you will find them in the Altabix, La Galia, and Rectorado and Consejo Social buildings, offering special prices and menus for students, serving both normal and low-calorie food choices. The cafeteria in Sant Joan d'Alacant is located on the ground floor of Balmis building. In Orihuela, it is found on the ground floor in the Tudemir Building.
---
Students with disabilities
If you have a disability, we recommend you contact the Unidad de Apoyo a la Discapacidad (UAD), or UAD (Unit of Support for Students with Disabilities), which forms part of the Vicerrectorado de Inclusión, Sostenibilidad y Deportes (Vice Rectorate for Inclusion, Sustainability and Athletics) before visiting the UMH. This office is on the Elche Campus in the Tabarca Building (Tel: +34 966 65 85 29, email ).
---
Student Identification card
In order to take full advantage of your free time and acquire significant discounts, the Institut Valencià de la Joventut, or IVAJ, (the Valencian Youth Institute), offers you the Carnet Jove card. Its objective is to facilitate mobility and intercommunication for youth, as well as offering significant discounts in shops, cultural and sporting activities, transport, trips, and lodging for trips and activities. All persons between the ages of 14-30 can acquire this card. Its cost is approximately 9 euros and is valid for two years. In Alicante, the IVAJ office is located on the Rambla de Méndez Nuñez, 41. Their telephone number is +34 96 647 8100 and email is .
---
Banks
We recommend you open an account at a Spanish bank in order to minimize commissions for transfers or payments you may need to make. To open a bank account, go to the bank with your passport or national identification card. Making an immediate deposit of money is not necessary and the transaction is immediate. The bank account they provide you will be comprised of 20 numbers that will serve for your daily transactions. If you would like to receive money from abroad, you will need to ask the bank for their IBAN or SWIFT/BIC codes of your new account, and then you will need to provide this information to your bank of origin in order to receive international transfers.
The International Bank Account Number (or IBAN) is a series of alphanumeric characters that identify a specific account for a financial entity anywhere in the world. Each bank account corresponds to a single IBAN, and via the IBAN, the country, entity, office, and account are identified. The SWIFT/BIC account code is used worldwide, while the IBAN is used primarily for operations within the European Union.
---
Hospitals, health clinics, and pharmacies
If you come from a country within the European Union, your European Health Insurance Card grants you the right to receive medical attention at any hospital or health clinic. In case of an emergency, we recommend that you immediately call 112 or attend the servicio de urgencias (emergency room) at the nearest hospital. If, on the contrary, it is not an emergency, you should visit a centro de salud (health clinic). Health clinics in Spain are distributed by neighborhoods, and so it is very probable that there is one nearby where you live. Information about all of these is available in the Generalitat Valenciana website. The health clinic will assign you a general practitioner whom you can see for common ailments.
For health emergencies on university campuses, also call 112, or you may direct yourself to the medical service in the Hélike Building on the Elche Campus, or attend the first aid station on the Orihuela Campus (formerly the concierge facilities, next to the student delegation). On the Altea Campus, first aid is available in the sculpture workshop.
Pharmacies are usually open from 9 a.m. – 2 p.m., and then again from 5 – 8 p.m., but many remain open continuously during the entire day. Farmacias de guardia are pharmacies that remain open all night long, and these can provide you with any medication you may need after the others have closed. Every pharmacy posts a list of the current farmacias de guardia on the façade outside it, and this information includes their names, addresses, and instructions on how to get there.
---
Business hours
Small businesses in Spain are normally open from 9/10 a.m. – 2 p.m., and then again from 5 – 8 p.m. Large shopping centers and supermarkets are usually open from Monday thru Saturday continuously from 9/10 a.m. – 9/10 p.m. You may request home delivery for purchases, although there may be a surcharge for this service.