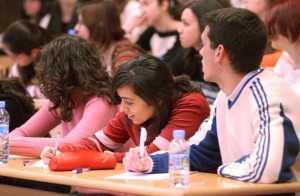 New: Student Destino call for the 2016-17 academic year announced.
Important: Interested students may apply for both Destino program financing modalities: UMH Destino Grants in addition to Iberoamérica Santander Grants. The list of universities in both financing modalities varies, as well as the number of places available (in the case of UMH grants, there are 10; for Banco Santander, there are 15), but the financial assistance is the same. Applying for a grant in both calls increases the possibilities of being awarded one.
Printed applications must be submitted to the UMH Office of Documentation, Archives and Registry or any of the university's auxiliary registries along with the remaining documentation the call requires, until March 23, 2016.
Click on the following links to be redirected to each of the modalities of the Destino call to see the full texts wherein the applicant requirements, economic provisions, conditions, etc., are shown.
In case of any doubts, you may email us at movilidad@umh.es, call us at +34 96 665 8710, or visit us at the Service for International Relations (ground floor of the Rectorado Building).
---
The Student Destino program promotes UMH undergraduate student mobility to foreign universities outside the European Higher Education Area, complementing the ERASMUS program for international mobility and the SICUE program for mobility within Spain.
The Student Destino program allows UMH students to carry out academic stays lasting from between one-half to one complete academic year at participating universities, and provides for automatic recognition of credits earned upon returning.
The UMH has allocated financial resources to fund the Destino program. Funding is also provided by financial institutions that have signed collaboration agreements with the UMH, and these include Santander Bank, creating the Iberoamérica – Estudiantes de Grado -Santander Universidades grants, which may be consulted in various sections of this website.