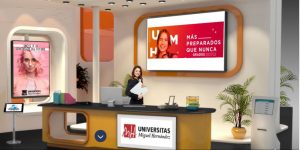 The Miguel Hernández University of Elche (UMH) has participated in the 'Study in Spain Virtual Fair' for students from Colombia, Peru, and Ecuador. This event, organized by the Spanish Service for the Internationalisation of Education (SEPIE), took place on September 29 and 30, and more than 20,000 people registered for it. Throughout its first day, hundreds of students from these countries visited the UMH virtual stand, where they were assisted by a university team made up of representatives from the Vice Rectorate for International Relations and the UMH Service of Communication.
Similarly, about 350 students viewed the live premiere of the 'UMH: More Prepared than Ever' webcast. This video, produced specifically for this event, enabled viewers to get informed about the academic offerings, and they could learn dynamically and firsthand about UMH language courses, university infrastructure, its sports facilities, as well as cultural, tourist and leisure possibilities. Throughout the webcast, students viewing it were able to make comments and resolve any doubts that arose. The live UMH webcast was the most popular event that the university had prepared for The Study in Spain Virtual Fair.
More than 25 public and private universities from all over Spain participate in this fair, which strives to publicize the potential of the Spanish university network as a preferred destination for Colombian, Ecuadorian, and Peruvian students. To do this, the UMH promoted its official undergraduate and Master's programs, as well as its own continuing education, graduate, and doctoral programs, as well as all kinds of information about the university.
In the organization of the fair, SEPIE collaborated with the Educational Attaché at the Spanish Embassy in Colombia, in addition to the Spanish embassies in both Ecuador and Peru. UMH presence at this Fair is part of the internationalization strategy that pays special attention to the American continent. Fair organizers aim to resume in-person attendance at upcoming editions in 2022.