International Staff Week 2016
2nd International Erasmus+ Staff Training Week at the Miguel Hernández University of Elche
November 7-11, 2016
The Service of International Relations, Development Cooperation and Volunteerism of the Miguel Hernández University of Elche would like to invite you to our second Erasmus+ Staff Training Week, taking place from November 7-11, 2016. On this occasion, we would like to present some of our university's outstanding services, with the main objective of sharing and exchanging information. Amongst other things, we would like to introduce the following:
Immigration Observatory of the City of Elche, where activities are dedicated to the integration of immigrants into local society, including higher education.
Service of Students with Disabilities, which works to integrate disabled students into the university community.
Occupational Observatory, which helps facilitate the entry of our students into the labor market.
Alumni UMH, which offers services for our university graduates.
Service of Communication, whose mission is to suggest, design, and conduct communication projects that promote the university and its services to a wider sector of society.
In addition to the work sessions, we are also providing interesting activities and events, including welcome and farewell dinners, a visit to the Clot de Galvany park, which forms part of the series of ponds in the Balsares area of Elche, The Art of Cooking Spanish Tapas Experience, and a visit to the picturesque town of Altea.
Please take a look at our program and fill out the Application Form on our website no later than September 14. Since the number of participants is limited (preferably two people per university), applications will be considered according to their date of receipt. Participants will be notified about their acceptance by September 16.
For further information or any queries, please don't hesitate to contact us at staffweek@umh.es.

[wpex more="Explore the program" less="Reduce"]
Monday, November 7

Locations

Rectorado
Elche Campus
Basilica of Santa María
Restaurant

14:30
Arrival of participants and registration

Photo by Simon
15:00
UMH Welcome speech. / Mr. Ausias Garrigós Sirvent, Deputy Vice Rector for International Relations – Internationalization
15:20
Presentation of the UMH and the Service of International Relations, Development Cooperation and Volunteerism / Ms. Inma Blaya Salvador, Director Service International Relations, Development Cooperation and Volunteerism
16:00
Campus visit. / Mr. Agustín Mingorance, Students Information Office
17:00
Guided tour of Elche, a city with two prized treasures: the Palmeral of Elche, containing over 200,000 palm trees, and the Mystery Play of Elche, a liturgical drama, which has been performed in the Basilica of Santa María since 1632. Both were awarded a distinction by UNESCO, the former as a World Heritage Site in 2000, and the latter as a World Heritage Masterpiece in 2001. / Guide of Visit Elx
20:30
Welcome dinner
Tuesday, November 8

Locations

Rectorado and Atzavares (classroom 6)
Elche Campus

09:30
Visit to the Center for Research in Sports Sciences – Talk about the integration of disabled students into the academic community / Mr. Raúl Reina, Area Director Attention Student with Disabilities
11:00
Coffee Break
11:30
Visit to UMH athletic facilities – Optional visit to UMH services (appointment necessary). / Mr. Eduardo Cervelló, Director Center for Research in Sports Sciences
13:30
Lunch Break
15:30
Presentation of participating universities (visit to UMH Radio). /Ms. Susi Niñoles, UMH Radio
18:00
Presentation of the UMH Club Erasmus – Meeting with Erasmus Students / Ms. Carmen Aguado and Mr. Antonio Garrido, Erasmus Club Coordinators
Wednesday, November 9

Locations

Rectorado
El Clot de Galvany
Orihuela Campus

09:30
Departure to El Clot de Galvany (guided tour with the possibility of planting a tree). / Guide of El Clot de Galvany
12:30
Picnic break
15:00
Departure  by bus to the Orihuela Campus
16:00
Visit to the Orihuela Campus. /Mr. Ricardo Abadía, EPSO Director, and Ms. Gema Romero and Ms. Estrella Sayas, EPSO Deputy Directors
17:00
Tasting of natural products from the EPSO / Mr. José Ángel Pérez, Deputy Vice Rector for Research and Innovation
Thursday, November 10

Locations

Rectorado
Elche Campus
Museum Restaurant

09:30
Occupational Observatory / Optional visit to UMH services (appointment necessary). / Mr. Domingo Galiana, Director Service of Occupational Observatory and Ms. Lola López, Occupational Observatory
10:15
UMH Alumni / Mr. Álex García, UMH Alumni
11:00
Health break
11:30
Managment of Cultural Diversity in University Classrooms / Ms. Lerdys Heredia and Mr. Alfonso Ortega, Legal Science Department faculty (Area of Private International Law)
12:15
Feedback session, including challenges and points of view / Ms. Inma Blaya Salvador
14:00
Optional visit to UMH Services (appointment necessary)
19:00
The Art of Cooking Spanish Tapas Experience. / Museum Restaurant Staff
Friday, November 11

Locations

09:00
Departure by bus to the Altea Campus

Photo by pablo.mira
11:00
Visit to the Faculty of Fine Arts
12:00
Guided tour of Altea / Guide of Visit Altea
14:00
Farewell lunch
17:00
Return to Elche or Airport by bus
[/wpex]

We inform that due to the very high demand for participation in the Miguel Hernandez Staff Training Week in Elche, registration is now closed.

[wpex more="Location" less="Reduce"]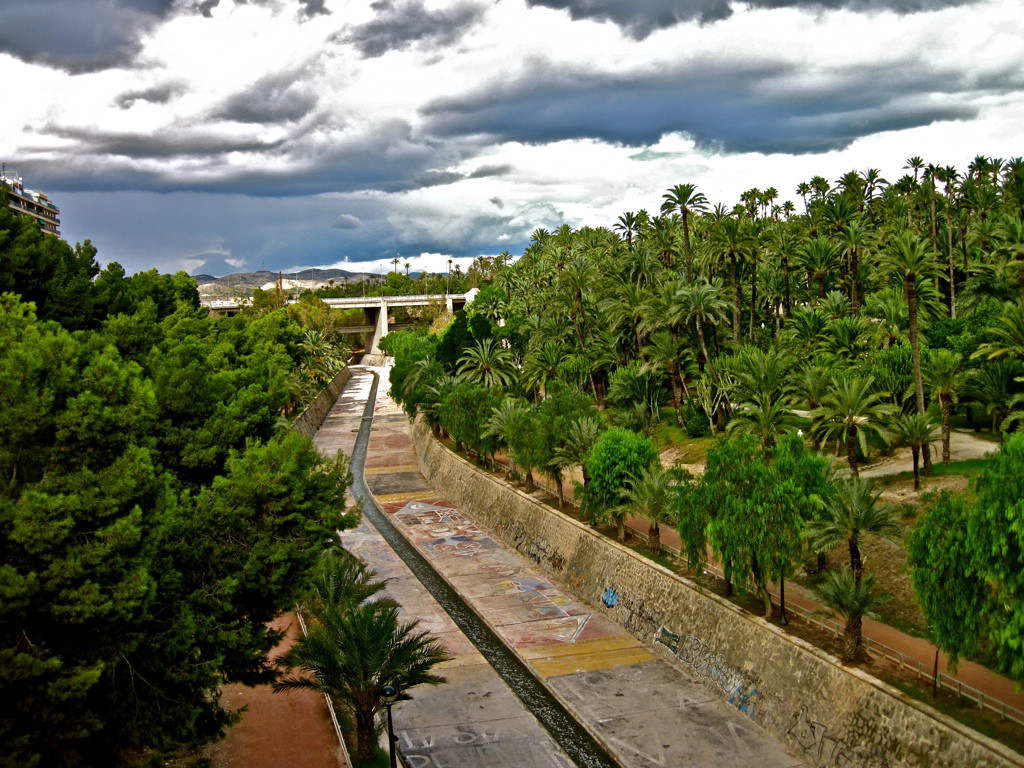 Elche
The UMH main campus is located in the city of Elche. Elche is the Valencian Community's third largest, and it possesses two UNESCO World Heritage sites: the Palmeral of Elche and the Mystery Play of Elche. Incoming students highlight its significant cultural and leisure options: Elche boasts several museums, a college town atmosphere in its city center, and peace and quiet in the Altabix neighborhood (the UMH campus is located there). Elche is in a truly privileged location 20 km from Alicante. It is in a strategic position, forming, together with other nearby towns, the southern axis of the Mediterranean Arc, a district that boasts great dynamism in both demographic and economic terms. The road network connecting Elche to the provinces of Alicante and Murcia is in good condition, and a functional transportation system exists via air, rail, and bus.

Orihuela
The UMH has facilities at two locations in the city of Orihuela. Orihuela is the capital of the region of the Vega Baja del Segura, and adjacent to the Region of Murcia. Lying on the banks of the Segura River, Orihuela is where Miguel Hernández, the illustrious poet for whom this university is named, was born and raised. There are two UMH divisions in Orihuela: The School of Engineering of Orihuela (EPSO) and the Faculty of Social and Legal Sciences of Orihuela.
Altea
Altea is the UMH's most artistic campus, located in the privileged Mediterranean environment of the Marina Baixa. One unique feature of this campus is that it is exclusive to the university's Faculty of Fine Arts. This campus has been designed to respond to two realities: the integration of students and instructors into the inspiring landscape wherein it is found, and the will to meet the specific requirements of a fine arts education. Among other installations, the Altea Campus has a forging workshop, spaces dedicated to new media, an experimentation laboratory, artistic foundry, and an image and sound studio.
[/wpex]