#TheUMHaccompaniesyou VOLUNTARY SERVICE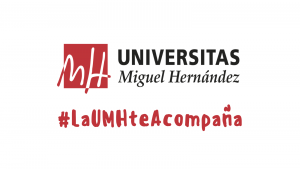 #TheUMHaccompaniesyou VOLUNTARY SERVICE
Voluntary assistance for elders in situations of loneliness
PURPOSE
Faced with the COVID-19 pandemic and the declaration of a state of emergency by the Spanish government to combat it, the Miguel Hernández University of Elche, in conjunction with the Spanish Red Cross, is launching this voluntary service program. This initiative aims to alleviate the loneliness that that this pandemic is causing in elders through telephone calls made to them during the quarantine, and then for an additional three months after the quarantine concludes.
TARGET AUDIENCE
This intervention is aimed to aid mainly elders from the Province of Alicante who either live alone (in addition to with a partner) in their own homes, as well as elders in nursing homes/residential care centers, who do not have any immediate family members nearby and who have been affected by the new isolation measures (individual and small group) that have been adopted.
DURATION
This voluntary service is to run during the state of emergency, and then for an additional three months after the quarantine concludes.
REQUIREMENTS OF VOLUNTEERS
Eligible volunteers include UMH undergraduate students and alumni who are either enrolled in or are graduates of the following programs:
Bachelor's in Medicine
Bachelor's in Occupational Therapy
Bachelor's in Psychology
Master's in Clinical Medicine Research
Master's in General Health Psychology
Master's in Gerontology and Health
Master's in Health Management
Master's in Occupational Therapy in Neurology
Master's in Primary Health Care Research
Individuals possessing other degrees/qualifications that are related to those aforementioned will be considered for participation in the program.
UMH faculty and research personnel involved in the medicine, occupational therapy, and psychology programs and those similar are also encouraged to participate.
Experience in counselling is valued.
DAILY SCHEDULE
Program hours run Monday thru Saturday, 10 a.m. – 2 p.m. and then 5 – 9 p.m. Volunteers express their preferences and availability both in terms of the number of hours (1, 2, or 3 hours per day) and how many days per week they are available. Further modifications are then reported to the program management center.
REGISTRATION
If you are interested in participating in this voluntary service and contributing as such to improving the situation of this particularly vulnerable group during this health crisis, please complete this FORM (in Spanish) before April 1.
EXPRESS ONLINE SEMINAR
Once registered, volunteers receive an express online seminar. This consists in bits of training on UMH volunteering and on COVID-19: what COVID-19 is, its transmission vectors, initial symptoms and alerts, precautions and domestic hygiene, basic counselling, how to act according to foreseeable situations.
COMMITMENTS OF VOLUNTEERS
Understand all documentation about the Spanish Red Cross Accompaniment Program, summarized information about COVID-19, and UMH telephone assistance protocols to participate in this program.
Take the online seminar that the UMH offers to volunteers to strengthen the Accompaniment program.
Determine your program participation availability and make it known to the program managers.
Make sure you possess the essential means to participate from home.
Agree to the program's ethical code.
Be available to perform the voluntary tasks during the time slot you commit yourself to.
Follow the program indications and, in particular, the care protocols for the program's target audience (elders).
Maintain the information of each contact with the target audience updated in order to ensure tracking of the intervention.
Inform the program management center of any incidents or malfunctions with the communication system to improve the working dynamics and available resources.
Notify the program management center of any changes to your personal situation that may affect your participation in the program.
RESOURCES REQUIRED OF VOLUNTEERS
Possession of a landline or mobile telephone, computer with Internet access, and residence within Spain (a Spanish telephone line).
COSTS OF TELEPHONE ASSISTANCE
Volunteers receive a call from the Red Cross who then puts them in contact with the program target audience. The volunteers assume no expenses.
PROCEDURE SUMMARY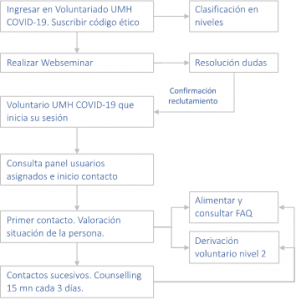 RECOGNITION OF CREDIT
Voluntary participation in this program may be recognized with credits given for transversal competencies for undergraduate students in accordance with the Regulations for Recognition for Transversal and Professional Competencies at the Miguel Hernández University of Elche.