UMH Prosperity Chair
UMH Prosperity Chair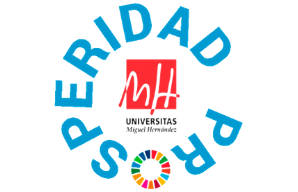 Prosperity, the Chair of Cooperation and Sustainable Development, at the Miguel Hernández University of Elche (UMH) aims to raise awareness in the university community on the importance of the commitment to the Sustainable Development Goals (SDG) that are present in the Agenda 2030 of the United Nations.
To access the Chair website, click here
SDGs that promote the "P" of Prosperity
7. Ensure access to affordable, reliable, sustainable and modern energy for all.
8. Promote sustained, inclusive and sustainable economic growth, full and productive employment and decent work for all.
9. Build resilient infrastructure, promote inclusive and sustainable industrialization and foster innovation.
10. Reduce inequality within and among countries.
11. Make cities and human settlements inclusive, safe, resilient and sustainable.
---
Awards for local projects within the city of Orihuela to Achieve the "P" of Prosperity from the SDGs
---
Final Degree and Final Master's Projects within the framework of the "P" of Prosperity from the SDGs
---
Doctoral Thesis Awards within the framework of the "P" of Prosperity from the SDGs
---