Vulcanus
Vulcanus in Japan is a program that consists in carrying out industrial internships in Japan. Said internships begin in September and conclude in August of the subsequent year. This timeline is such in order to conform to academic calendars of European Union countries.

The students complete:
A weeklong seminar in Japan.
A four-month intensive course of Japanese.
An internship lasting 8 months at a Japanese company.
The program objective is to familiarize future managers of European industry and business with the Japanese business world, encouraging the creation of privileged relationships, which are often decisive for enabling industrial cooperation projects between the West and East.
The Vulcanus program in Japan is subsidized by both the Japanese businesses that host the students and by the EU-Japan Centre for Industrial Cooperation. Students receive a grant of 1,900,000 yen, which is intended to cover travel expenses and basic living expenses in Japan. The host business is responsible for each intern's accommodations for the 12 months. The Japanese language course and seminar are covered by the EU-Japan Centre for Industrial Cooperation.
Applicant selection is based on university academic performance, opinions by faculty, knowledge of written and spoken English, applicant motivation and interest in EU-Japan relations, and by each applicant's ability to adapt.
Requirements
Applicants, nationals of EU*/COSME countries, must be:
enrolled in an EU/COSME university, in either an engineering or scientific field* until at least the month of June subsequent to submitting the application.
enrolled between the fourth year of an undergraduate program and next-to-last year of a PhD program.
able to be absent from your university program for one year.
*Eligible programs are those related to computer science, engineering, chemistry, biotechnology, physics, telecommunications, production systems, etc.
---
Call 2023/2024
The application process is managed by the Service of International Relations, Development Cooperation and Volunteerism, and includes:
Applicant's curriculum vitae
Motivation Letter (maximum 1 page in length)
Recommendation letter by an instructor from one of the most important program courses
University transcript (in English), sealed by the corresponding university
University grading system (in English)
University enrollment certification (in English)
Medical certificate (in English)
A separate folder containing photocopies of all the aforementioned documents (except for the Excel spreadsheet)
Online submission of personal data, through the online link (only one submission permitted)
The Service of International Relations will accept all applications, review them, and forward them to the EU-Japan Centre at the appropriate time.
The deadline for submitting all required documents to the Service of International Relations (La Galia Building, Elche Campus), to then be forwarded to the EU-Japan Centre, is January 20, 2023
---
Previous calls
Vulcanus program brochure in Spanish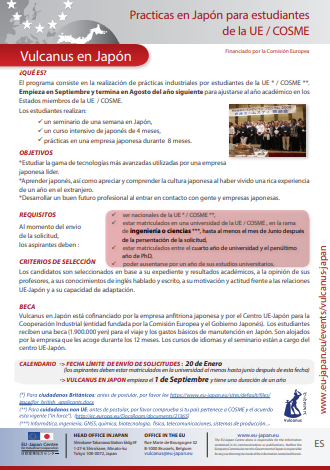 Organizer:
EU-Japan Centre for Industrial Cooperation
52, Rue Marie de Bourgogne, bte 2
B-1000 Brussels, BELGIUM
For further information, you may contact the Service of International Relations by telephone at +34 96 665 8667, and you may also do so via email, to