Global UMH Magazine
Global UMH magazine is a biannual publication that highlights activities at the Service of International Relations, Development Cooperation and Volunteerism in the form of news, reports, and interviews.
THE VICE RECTORATE FOR INTERNATIONAL RELATIONS PUBLISHES THE FIRST ISSUE OF GLOBAL UMH MAGAZINE
The Vice Rectorate for International Relations at the Miguel Hernández University of Elche is very pleased to introduce the first issue of Global UMH magazine. A print version has been presented to the heads of UMH centers, and there is an online version accessible on any device from any location.
Global UMH magazine is published in Spanish and English. It is configured like a letter of presentation so UMH community members who visit universities outside Spain can show the services our university provides; likewise, it contains relevant information about the UMH to visitors that can be consulted at a single glance. Also included within are testimonials from university students, faculty, and staff who have participated by sharing their experiences.
This is the first issue of a magazine that will feature new themes and protagonists in the future; its second issue is scheduled for mid-year. If you would like to participate in upcoming issues, write to us at global@goumh.umh.es. If you are from the UMH and have participated in a mobility program, volunteered in Rwanda, initiated internationalization actions, or have a project you would like to promote, this is your magazine.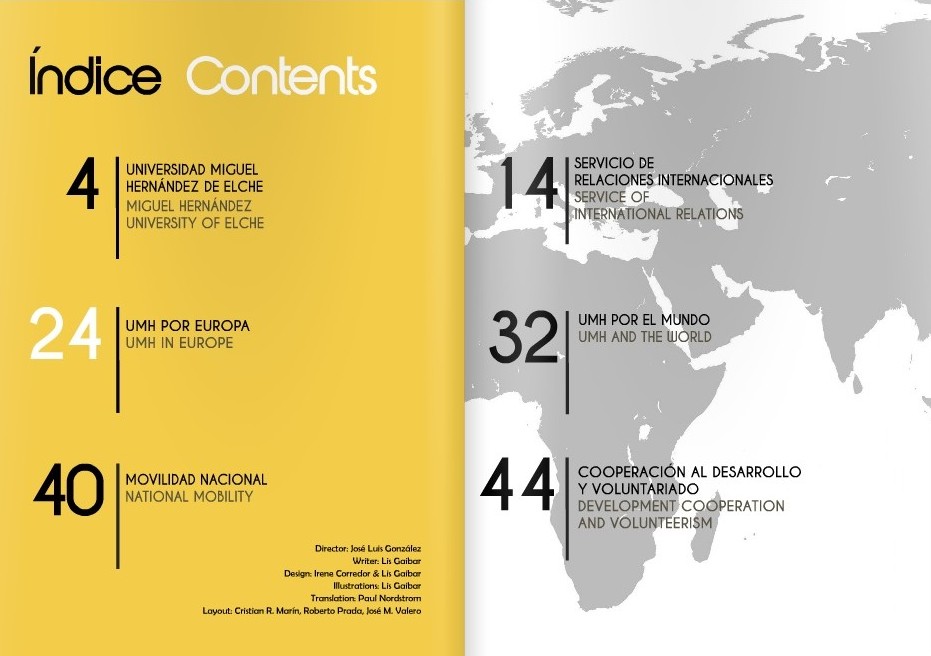 From here, we would like to express our most sincere appreciation to all those who helped make this first issue possible by conceding interviews, sending accounts, attending events, or by sending photographs. A free printed copy is available to all participants of this first issue at the Service of International Relations. For all others, this publication is available to all users via our Issuu account.
We hope you enjoy it.