Vicente Micol Participates at the More Europe in the Mediterranean Meeting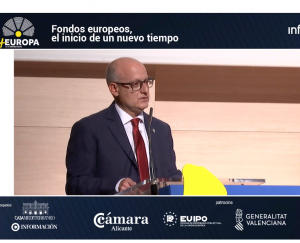 Vicente Micol, Vice Rector for International Relations at the Miguel Hernández University of Elche (UMH), was a speaker at the More Europe in the Mediterranean meeting today, in Alicante. He addressed 'European Funding, the Start of a New Time' along with the Autonomous Secretary for the European Union and Foreign Relations of the Generalitat Valenciana, Joan Calabuig, to analyze the importance of European funding and its impact upon the Valencian Community.
During his presentation, Micol highlighted the participation by the UMH in the Erasmus+ initiative of European Universities, as well as UMH membership in The European University of Brain and Technology (Neurotechᴱᵁ), along with prestigious other universities, including Oxford, Radboud, and Bonn. Similarly, the Vice Rector for International Relations also mentioned UMH involvement in the Erasmus Mundus program, the objective of which is to train professionals and investigators in the sector of translational cosmetics and dermatological sciences.
Furthermore, Micol ensured that the UMH is prepared to "face the 2021-2022 school year with tremendous enthusiasm despite the current hardships. Valencian universities have kept their attention steadfast upon research and innovation, and we are ready to strengthen mobility for students, faculty, research personnel, and staff," affirmed the vice rector.
Other participants at this event, which was organized by the Casa Mediterráneo and the newspaper, Diario Información, included the Alicante Chamber of Commerce and the European Union Intellectual Property Office.