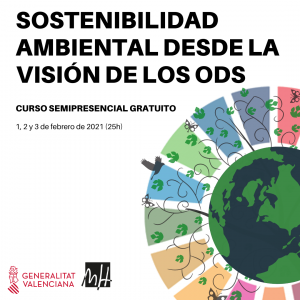 The registration period for the Environmental Sustainability from the SDG Point of View course, set for February 1-3, 2021, is now open. This course has a blended format, with both face-to-face and virtual components. The course program may be consulted at the following link:
Environmental Sustainability from the SDG Point of View course program
This course addresses understanding and assessing the importance of fulfilling the Sustainable Development Goals related to environmental sustainability, carrying out actions to achieve them within university settings, and becoming able to transmit and spread the importance of fulfilling the SDG to transform the world.
Registration for this course is free, and applicants are admitted in the order that they register for it. If you are interesting in participating, open the below link, click the COOPERACIÓN AL DESARROLLO Y VOLUNTARIADO option in Tipo de enseñanza, then click Sostenibilidad ambiental desde la vision de los ODS from Enseñanza.
Link for the Environmental sustainability from the SDG Perspective course
This course is included within the catalog of activities whose participation is recognized with transversal credits. Upon conclusion, participants visit a UMH campus management center (CEGECA) for their recognition.
This event forms part of the UMH Development Cooperation and Volunteerism program that is supported financially by the Directorate General of Cooperation and Solidarity at the Conselleria of Transparency, Social Responsibility, Participation and Cooperation of the Generalitat Valenciana.