January 27, 2021
5:00 pm
a
7:00 pm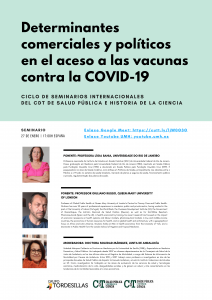 Set your calendar for January 27, to see the presentation on 'Commercial and Political Determinants for Access to Covid-19 Vaccines.' This event forms one part of the cycle of the 'Covid-19: Reflections on History and Public Health' international seminars.
Participants in this activity include professor Lígia Bahia, from the Federal University of Rio de Janeiro, and professor Giulano Russo, from Queen Mary University of London. Soledad Márquez, representing the Junta de Andalucía, is moderating.
This seminar will be streamed live starting at 17:00 hours Central European Time, over Google Meet (https://meet.google.com/mwq-oxnf-wjz?authuser=0), as well as over the UMH YouTube channel, found at youtube.umh.es.