March 30, 2021
5:00 pm
a
7:00 pm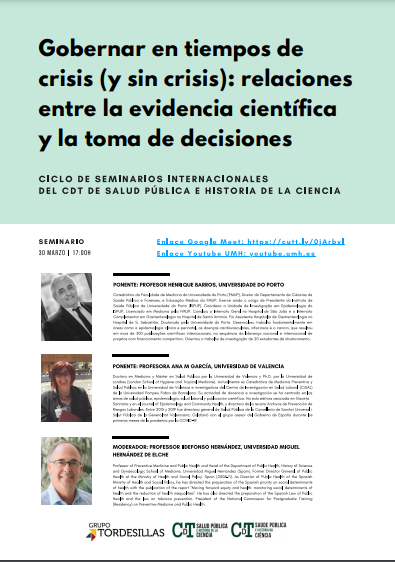 On March 30, the presentation entitled 'Governing in Times of Crisis (and without Crisis): Connections between Scientific Evidence and Decision Making' is going to take place. This activity is part of the 'Covid-19: Reflections on History and Public Health' cycle of international seminars.
This seminar features professor Henrique Barros, from the University of Porto, along with professor Ana M. Garcia, representing the University of Valencia. Both of these speakers have been advising their respective governments during the pandemic. Moderating this meeting is professor Ildefonso Hernández Aguado, from the Miguel Hernández University of Elche.
This event starts at 17:00 Central European Time, and will be broadcast live on both Google Meet (https://meet.google.com/mwq-oxnf-wjz?authuser=0) as well as on the UMH YouTube channel, at youtube.umh.es.