Recipient of the Grant Call to Support Doctoral Theses within the Framework of SDG Promotion, Targeting Prosperity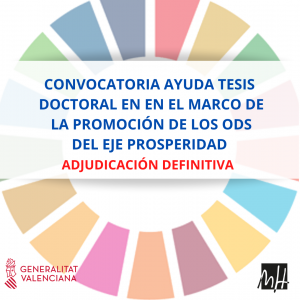 The definitive recipient of the grant call to support doctoral theses within the framework of SDG promotion, targeting prosperity, from the 2030 Agenda of the United Nations, is hereby announced. The announcement may be consulted at the following link:
A claim against this resolution may be filed with the university rector, because said resolution is definitive and finalizes the administrative procedures, within a one-month period that begins on the date of the publication of said resolution. A legal appeal may also be filed with the Contentious Administrative Court of Elche within a period of two months from the date of publication, without prejudice to the fact that any other appeal may be filed that is deemed appropriate, in accordance with the provisions of Article 123 of Law 39/2015, of 1 October, of the Common Administrative Procedure of Public Administrations (Spanish Official State Gazette, October 2, 2015), and Article 46.1 of the Law Regulating the Contentious-Administrative Jurisdiction, of July 13, 1998 (Spanish Official State Gazette, July 14, 1998).
This action promotes the following Sustainable Development Goals:
GOAL 7: Affordable and Clean Energy
GOAL 8: Decent Work and Economic Growth
GOAL 9: Industry, Innovation and Infrastructure
GOAL 10: Reduced Inequality
GOAL 11: Sustainable Cities and Communities