30 Incoming UMH students participate as Costa Blanca Ambassadors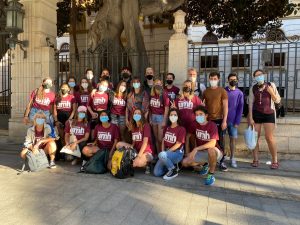 This weekend, 30 international students at the Miguel Hernández University of Elche (UMH) were participants in the Costa Blanca Ambassadors Tourist Workshops. This event aimed to show off the Province of Alicante as a safe destination by carrying out various activities, all of which respected measures of good hygiene and practiced social distancing.
This meeting, which took place on Saturday, May 15, 2021, was organized by the Costa Blanca Tourist Board, in conjunction with the UMH, University of Alicante, and the Spanish Federation of Associations of Spanish Schools for Foreigners.
Representing the UMH at the event to receive and coordinate students from this university were Elías Poveda, who is in charge of the SICUE program at the Service of International Relations, Development Cooperation and Volunteerism, along with Inés Alonso, who runs the Club Erasmus.
Among the activities UMH students completed worth highlighting include a hike along nearby cliffs, snorkeling in Benitatxell, an introduction to diving in Calpe, and aquatic canyoning in Callosa d'En Sarrià. They also took part in other excursions, such as cliff jumping along the Villajoyosa shoreline, a kayaking adventure in Javea, riding electrical bicycles in Benidorm, an introduction to golf followed by wine tasting in Alicante, and paddle surf in Santa Pola.