Registration period open for Welcome Days for incoming students at the UMH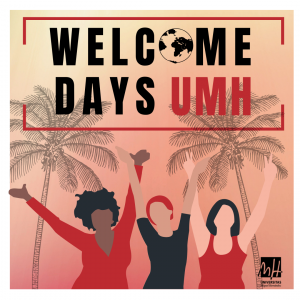 The Vice Rectorate for International Relations at the Miguel Hernández University of Elche (UMH) is celebrating Welcome Days for incoming students who have been admitted for the 2021/2022 school year. This year, the event is taking place electronically on September 14, 15, and 16.
Over these three days from 9:00 – 10:30 Central European Time, we are offering various workshops so incoming students can learn about the UMH, the services available to these students, and the university employees who manage them. We will also address possibilities for finding housing, the university facilities, athletic & health offerings, campus libraries, food services & restaurants, cultural activities, and our Club Erasmus. This information will help you integrate as a new incoming student and will help you meet the people who will be your classmates next year.
The Virtual meetings are held on Google Meet and will last 90 minutes.
Incoming students admitted for 2021/2022 who are interested in participating register by filling out the following Google FORM. After submitting it, you will receive an invitation to join the Meet sessions on September 14, 15, and 16.
The schedule for each day can be consulted next: