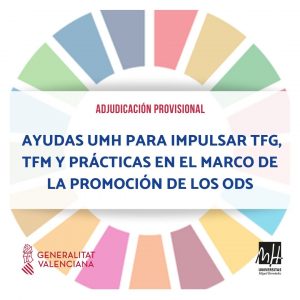 The provisional awards of UMH support to promote final degree projects, final master's projects, and traineeships within the framework of the Sustainable Development Goals from the United Nations 2030 Agenda have hereby been announced. These are from the UMH-GVA Call.
The list is may be consulted at by clicking provisional awards of support.
The deadline for filing claims is October 4.
Further information about this call is available at the following link:
Support for Final Degree Projects, Final Master's Projects and Traineeships on the SDG's