Registration period open to attend the third Conference on International Promotion of Spanish Higher Education
| | | |
| --- | --- | --- |
| October 20, 2021 1:10 pm | a | November 26, 2021 2:10 pm |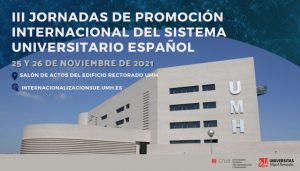 The registration period to attend the third Conference on International Promotion of Spanish Higher Education is now open. Organizers of this event include the Internationalization and Cooperation unit at the Conference of Rectors of Spanish Universities along with the Vice Rectorate for International Relations at the Miguel Hernández University of Elche (UMH).
This edition of the conference is being held in person on November 26, 2021, in the Auditorium of the Rectorado & Consejo Social Building on the Elche Campus of the UMH. The conference is featuring presentations and debates on four main topics related to international promotion of Spanish higher education: travel visas, tools for international promotion, access to Spanish higher education, and international appeal of Spanish higher education.
Information about registering for the conference, accommodations, and speakers who are participating in the program is available for consultation at https://internacionalizacionsue.umh.es/.