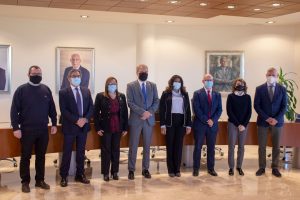 The Miguel Hernández University of Elche (UMH) has received representatives from the Ministry of Higher Education, Science and Technology (MESCyT) from the Dominican Republic. Meetings were held November 22-24, which aimed to continue forging closer ties between both institutions, tour UMH installations, and learn better firsthand about the Spanish higher education system.
On November 23, UMH Rector, Juan José Ruiz Martínez, extended the welcome and held a strategic meeting with the Dominican Deputy Minister of International Relations, Paula Mercedes Disla Acosta, and the Director of the Department of Faculty and Student Mobility, Olga Sosa de Novas. This meeting served to introduce the UMH, and also featured its academics on offer, facilities, projects, and programs. Its participants also emphasized their intention of continuing to strengthen ties between the two institutions.
Other participants at this meeting included the Vice Rector for International Relations, Vicente Micol; Vice Rector for Academic Affairs, Susana Fernández de Ávila; Vice Rector for Research, Domingo Orozco; Ibero-America Espejo Program Director, Joaquín Julián Pastor; plus the Director of the Virtual Learning Platform, Fernando Borrás.
Following their meeting, the MESCyT delegation toured the university grounds and granted interviews at the UMH Radio Studios for the program of the Vice Rectorate for International Relations, Global UMH. Then, they visited the Industrial Park to learn of the innovation strategy that the entity is implementing and to see some of the companies based there, including PLD Space, Huerto Gourmet, and MistWall Studio, in addition to the spin-off, AntalGenics.
On the morning of Wednesday, November 24, they visited the Sant Joan d'Alacant Campus and met there with Associate Dean of International Relations and Quality Control from the Faculty of Medicine, Diego Echeverría, and again with Vice Rector Domingo Orozco. The also saw the facilities of the CYBORG Institute and met with its representatives. Next, they met with Ángel Barco, who is Director of the Institute of Neurosciences, a joint research center between the UMH and the Spanish National Research Council (CSIC), and with the researcher leading UMH efforts in the NeurotechEU endeavor, Juana Gallar. Finally yet importantly, they also met with the president of the UMH Board of Trustees, Joaquín Pérez Vázquez.
For several years now, the UMH and MESCyT have been growing ties with the Espejo program, which fosters participation by UMH faculty in masters and doctoral programs in Latin America, as well as promoting relationships so American students can study at our university.