UMH project provides tools to enhance the quality of life in people with disabilities in Ecuador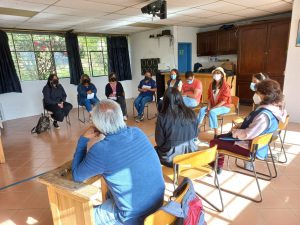 "Provision of Tools to Orient and Enhance the Quality of Life in People with Disabilities in Ecuador" is the name of a cooperation project at the Miguel Hernández University of Elche (UMH) that carries out actions to foster the inclusion of people with disabilities via the assessment of their states of health and the perception of their quality of life (QOL).
In Ecuador, people with disabilities continue being subjected to bias in terms of rights, and one of the necessary steps for facilitating their full inclusion is to learn of their states of health and to evaluate how they perceive their quality of life to be. In so doing, this study aims to validate the World Health Organization Quality of Life Disabilities questionnaire (WHOQOL-DIS), since no validated QOL measurements exist. The data that is obtained may then contribute to the development of measures that improve the conditions of people with disabilities in a co-creation workshop, by making them protagonists and empowering them in decision-making.
Work is currently ongoing in Quito with disabled individuals, their families, and with caregivers from institutions through the FINE Foundation, Association of Parents of Ecuadorian People on the Autism Spectrum (APADA), Vida Quinti Movement, and the Organization of Care and Services for People with Disabilities (CONADIS).
Project participants from the UMH include faculty members and researchers Lucy Anne Parker, Elisa Chilet Rosell, Ikram Benazizi Dahbi, and María Lucía López Moreno. Their American collaborators include Ana Lucía Torres, Yolanda Ortiz Carranco, and Carlos Jimenez, who are faculty from the Pontifical Catholic University of Ecuador (PUCE).
This research promotes tools to put an end to the inequalities of disadvantaged and marginalized populations, particularly in people with disabilities. Thus, it will contribute to achieving Sustainable Development Goal 3, Ensure healthy lives and promote well-being for all at all ages; SDG 10, Reduce inequality within and among countries; and SDG 17, Strengthen the means of implementation and revitalize the global partnership for sustainable development.
This project was chosen in the call for international research projects to achieve the SDGs from the United Nations 2030 Agenda, which was called by the UMH Vice Rectorate for International Relations and funded by the Generalitat Valenciana (Conv. GVA-UMH Solcif. 2020/0005).