Experiences that change the life of an administrative and services employee, in 'Global UMH' on June 22, 2022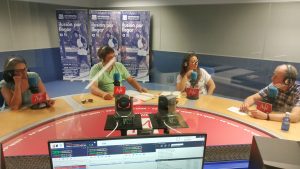 In this new program, we speak with a group of administrative and services personnel from the UMH who have taken part in mobility programs. Francisco Carmona, Ilda Caeiro, and Susi Niñoles tell us about their experiences in foreign lands on the various mobility programs that they took part in (Erasmus, Destino, etc.).
Furthermore, with María Haba, we talk about the main mobility programs offered by the UMH for its students, faculty & research personnel, plus its administrative and services employees. There are many programs, and you surely are not aware of them all.
This program is produced and presented by Sergio Murillo and Luis Sempere.
To listen to it on the UMH Radio blog, click here.