Informative Sessions on 2023/2024 Mobility Programs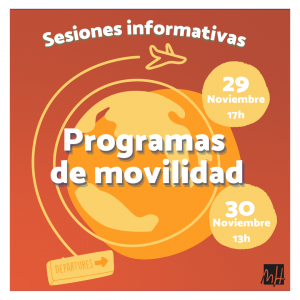 The Service of International Relations, Development Cooperation and Volunteerism is offering two online informative sessions on the mobility programs of Erasmus, SICUE, and Destino for the 2023/2024 school year. Students can choose between the following two days:
Tuesday, November 29, 2022, beginning at 5 p.m. European Central Time.
Wednesday, November 30, 2022, beginning at 1 p.m. European Central time.
To take part in these sessions, interested individuals may register through November 27, 2022, by filling out the following form that is found at the following link:
Registration link to attend Informative sessions on Mobility programs.