The European University, NeurotechEU, of which the UMH is a founding member, grows with two new members
The European University of Brain and Technology (NeurotechEU) is forging ahead towards a new stage of cooperation. To help accomplish this, the Miguel Hernández University of Elche (UMH) is playing host to the Board of Rectors meeting that is being held November 22 & 23, 2022, on the UMH campuses of San Juan and Elche. Launched in 2020, the NeurotechEU alliance is now comprised of 10 European universities, all committed to the creation of a boundary-free educational space wherein future neuroscience and neurotechnology professionals are being trained. The Board of Rectors of this consortium is comprised of the rectors of the participating universities, and this body meets regularly to discuss the progress of the project and to guide its forthcoming steps.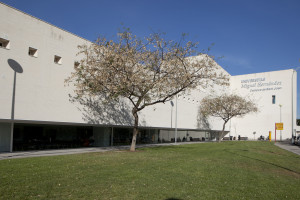 During the UMH Elche Campus meeting, two new members will be officially admitted: the University of Lille (France) and Reykjavik University (Iceland). Consortium members will also sign a declaration on the commitment by NeurotechEU to design their training programs to progress towards a new stage. More specifically, they want to emphasize the importance of neuroscience and of the development of neurotechnology to improve the health of people, ensure equal access to quality higher education on these topics, in addition to fostering in their students commitments to sustainability and the social benefits of science.
Simultaneously, the NeurotechEU Student Council is also celebrating its first face-to-face meeting. This council represents the opinions of all NeurotechEU students. This group works to promote equitable opportunities for all enrolled students, facilitate the exchange of knowledge and experiences, and helps with the transfer of skills.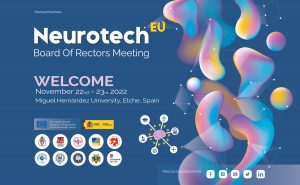 On November 22, this event is also featuring a scientific session on the San Juan Campus of the UMH. Various researchers from different moments in their scientific careers from the fields of neuroscience and neurotechnology are presenting their latest findings from their laboratories for the leaders and students of NeurotechEU.
Two workshops and various social actions are complementing this visit. The attendees are going to have time to visit the city of Elche, a location home to two UNESCO World Heritage sites.
NeurotechEU is an initiative that receives funding by the Erasmus+ program of the European Union and also by the Ministry of Universities of the Spanish Government. Besides the UMH, other founding members of NeurotechEU include Radboud University (The Netherlands), University of Oxford (United Kingdom), Karolinska Institutet (Sweden), University of Bonn (Germany), Boğaziçi University (Turkey), Iuliu Haţieganu University of Medicine and Pharmacy Cluj-Napoca (Romania), and the University of Debrecen (Hungary).