UMH welcomes 37 graduate students from Dominican Republic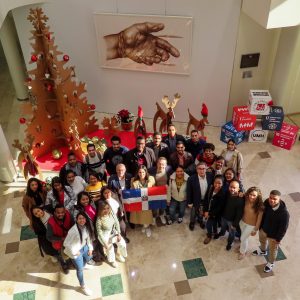 The Miguel Hernández University of Elche (UMH) has given a warm welcome to students from the Dominican Republic who are recipients of grants by the Dominican Ministry of Higher Education, Science and Technology (MESCyT) to undergo specialized training in UMH graduate programs.
Providing the welcome and meeting with the student recipients of these grants on November 30 included UMH Rector, Juan José Ruiz Martínez; Vice Rector for International Relations, Vicente Micol; Vice Rector for Student Affairs and Coordination, Juan José López; and Ibero-America Espejo Program Director, Joaquín Julián Pastor.
This meeting served to introduce the Elche university, its academic offer, installations, projects, and projects, and made clear the intention to continue strengthening ties with Dominican universities.
For their part, these students expressed their appreciation toward the UMH for the dedication, kindness, and treatment they received during the process for submitting their documentation, as well as for UMH preparations, and how they were received in the various graduate training programs.
For years, the UMH and MESCyT have been strengthening their connection with the Espejo Program, which functions by fostering participation by UMH faculty members in master and doctoral programs in Latin American, and it also promotes relationships with that Caribbean country so Dominican students can study here at our university.