Board of Rectors Meeting of the European University of Brain and Technology – NeurotechEU
The rector at the Miguel Hernández University of Elche (UMH), Juan José Ruiz, traveled to France and its University of Lille along with the other members of the Board of Rectors at the European University of Brain and Technology, NeurotechEU, to attend the sixth meeting of this board, which meets twice every year. NeurotechEU is a project in which the UMH participates as a member of this European consortium of eight universities. The objective of this meeting was to implement Phase 2 of the NeurotechEU consortium, whose goal is to create an interuniversity campus linking education, research, innovation, and society.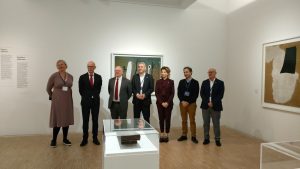 UMH representatives who accompanied the rector to Lille included Vice Rector for Internationalization and Cooperation, Vicente Micol; Director of the Service of International Relations, Development Cooperation and Volunteerism, Inmaculada Blaya; and the project manager, María José Such. On behalf of the UMH, NeurotechEU is led by researches from the Institute of Neurosciences (UMH-CSIC), and it brings together professors and researchers from the areas of neuroscience, technology, technicians from the Service of International Relations, plus the Vice Rectorate for Internationalization and Cooperation at the UMH.
Other participating individuals at the meeting were project leader and UMH Professor of Physiology, Juana Gallar; researcher from the UMH-CSIC Institute of Neurosciences, Santiago Canals; and UMH student representative, Sandra Manzanero.
This project is funded by the Erasmus+ program of the European Union and the Ministry of Universities of the Spanish government. Other participating universities in the consortium are Radboud University (Netherlands), Karolinska Institutet (Sweden), University of Bonn (Germany), Boğaziçi University (Turkey), "Iuliu Hatieganu" University of Medicine and Pharmacy (Romania), University of Lille, and Reykjavik University (Iceland).