Ryszard Kapuscinski International Seminar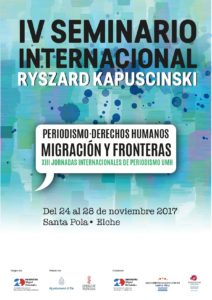 The Vice Rectorate for International Relations at the Miguel Hernández University of Elche is hosting the fourth Ryszard Kapuscinski International Seminar on Journalism, Human Rights, Migration and Borders, which will bring together leading journalists and expert academics on human rights and in conflict zones. The seminar is coinciding with various milestones: the tenth anniversary of the death of Polish journalist Ryszard Kapuscinski, the twentieth anniversary of the founding of the Miguel Hernández University of Elche, and the 75th anniversary of the death of the poet for which the UMH is named after.
Ryszard Kapuscinski International Seminar IV
Dates: November 24*, 27 & 28.
Location: Centro de Congresos de Elche, Castillo de Santa Pola
Sponsors: Elche City Hall, Generalitat Valenciana
Collaboration: Faculty of Social and Legal Sciences of Elche, Santa Pola City Hall
Registration: Seminar attendance is free for the public until the seating space reaches its capacity. For university students, the cost is 10 euros and this includes a reserved seat and a seminar diploma that is worth one ECTS credit. You may register here (remember that to complete your registration you must pay the invoice) before November 20, 2017.
CLICK HERE TO REGISTER FOR THE SEMINAR
Seminar Coordinator: Associate Professor José Luis González-Esteban / jose.gonzalez@umh.es
The event will also be streamed live.
* The session on Friday, November 24 will be held at the Centro Cultural-Castillo Fortaleza of Santa Pola and its seating capacity is limited. We recommend that all interested persons arrive early to the session to be assured of getting a spot.
Program (download here in PDF format):
Friday, November 24
6 p.m. – Young Reporters in Conflict Zones. Moderator: Miguel Ángel Valero, UMH journalism graduate and writer and editor of El Salto.
José Pedro Martínez. Working Professionally along the Mexican Border. Freelance photojournalist, who has collaborated with Newsweek, Los Ángeles Press, and eldiario.es.
Pablo Miranzo. Colombia: Histories behind the Conflict. Freelance photojournalist specializing in social issues such as conflicts of class or identity. He has carried out journalistic assignments in Colombia, Mexico, and Peru, among other countries.
Antonio Trives. Refugees in Greece: How they Reach Europe, the Conditions in which they Live, and What Awaits them Afterwards. Freelance journalist, collaborates with the porCausa foundation, and for three months actively documented the situation at refugee camps in Greece.
Ángela Rodríguez. The Role of Hungary in the Migratory Crisis. This journalist has worked as a volunteer in Hungary, and investigated on how that country has acted politically and in terms of the media with respect to the migratory crisis. She currently lives there.
Salvador Fenoll. Philippines, Kingdom of Terror. Salvador Fenoll is a freelance photojournalist and finalist for the PhotoOn Grant for his coverage of the "War against Drugs" by the Philippines president and the executions deriving from that.
Lis Gaibar: African News and Complexities. Following her stay as a volunteer in Rwanda, Lis researches news, journalism, and the media in that country and in East Africa.
7 p.m. – Inauguration of the Frontier Mexico: Photojournalism Approach Exhibition by José Pedro Martínez.
8 p.m. – Wine toast
Monday, November 27
10:30 a.m. – Official inauguration / 'The Seminar Books' Presentation
11 a.m. – Round Table (2): Journalistic Coverage and African Context. Xavier Aldekoa (La Vanguardia, 5Ws) and Mariano Pérez Arroyo (UMH Headquarters in Rwanda Chair).
12 p.m. – Coffee break
12:30 p.m. – Round Table (3): Human Rights in Mexico. Guadalupe Lizárraga (Los Ángeles Press) and Chelo Álvarez-Stehle (Sands of Silence)
5 p.m. – Round Table (6): Kapuscinski, Ten Years after his Death: Rollbacks of Freedoms in Poland. Malgorzata Kolankowska (University of Wroclaw), Rubén Torres Kumbrián (UNED), and Arkadiusz Lewicki (University of Wroclaw).
6 p.m. – Round Table (4): Journalism in Conflict Zones in Mexico. Gabriela Minjares (Red Periodistas Ciudad Juárez).
7 p.m. – Round Table (5): Journalism, Human Rights, Migration and Borders. Nicolás Castellano (Cadena SER) and Ramón Lobo.
Tuesday, November 28
10:30 a.m. – Round Table (7): The Media Ecosystem in the Trump Era: Rights and Freedoms in the United States of America. Vanessa de Macedo, Higgins Joyce (Texas State University), and Jordi Marí (North Carolina State University).
11:30 a.m. – Coffee break
12 p.m. – Presentation Ceremony of the ninth Ricardo Ortega Journalism Reporting Awards and the seventh Pepe Andreu Radio Award
12:30 p.m. – Closing Conference. Enric González, Jot Down Magazine.