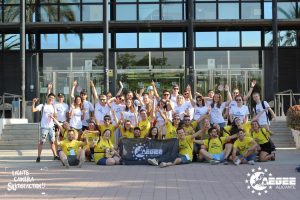 Between July 17 – 29 of this year, the Miguel Hernández University of Elche welcomed 25 European students aged 18 – 30 on the occasion of the international Summer University, an event organized by AEGEE-Alicante.
Throughout this event, the participating students were housed in Elche Campus facilities and had UMH facilities available to them to carry out numerous activities. Assisting them in terms of organization and logistics was the UMH Vice Rectorate for International Relations.
Of the more than 30 activities that took place during the Summer University, the guided visits to various surrounding municipalities were enjoyed most. The participants toured the historical sections in the cities of Elche, Alicante, and Altea, they visited the Island of Tabarca, Fuentes de L'Algar nature area, and they were able to swim on beaches from around the province of Alicante. They even went rafting down the Segura River.
Doruntina Kasaj, 22, is a student of foreign cultures and languages in Turin, Italy, and participated in this event. She explains that she liked the landscapes of each municipality most. "I enjoyed seeing the sea, its beaches, palm trees, and the fact everything was so blue – it provided me with warm and friendly feelings. The university provided the opportunity, with assistance by its organizers, to visit such great locations with many supporting activities behind them," she explains.
In addition to the visits to nearby locales, the Summer University event, organized under the artistic theme of cinema, held various workshops and talks in La Galia Building on the UMH Elche Campus. Some of the most prominent, and that served to bond the international group, was the script-reading workshop and that of scene interpretation from films that included Mean Girls, Pulp Fiction, and La La Land, among others.
Furthermore, there were also night-hour dynamics taking place during their stay, including European Night, which took place on the Elche Campus. It consisted in sharing a typical food product from each participant's city of origin with the others, which was then eaten during the subsequent meal.
Taking advantage of a stay such as Summer University provided the participants, who traveled from countries such as Russia, Hungary, Greece, Holland, and Azerbaijan, with a new perspective about Spanish culture and those of many others. Doruntina Kasaj said she will surely repeat the experience.
"It was one of the best experiences of my life, it allowed me to move outside my comfort zone, which is something I do not usually do. It provided an opportunity to grow, become less shy and more sociable. We never felt alone, for the organizers and the rest of the others were always helping," says Doruntina Kasaj.
Every summer, the AEGEE, or European Students' Forum, organizes events like this throughout Europe. The Summer University is held in 50 cities from 19 countries all over the European Continent. This July's event was the first held at and organized by the UMH.
Alicia Espigares, who is on the event's organizing team, appreciates the support provided by the university. "The work done was well worth it, for it is a very positive experience. Being able to show off the locations where I pass my time was very satisfying. Finally, on an organizational level, the support provided by the UMH Vice Rectorate for International Relations in events of this kind is fully appreciated."
13 August 2019
Comments off