THE UMH ANNOUNCES THE DESTINO CALL TO STUDY OUTSIDE THE EHEA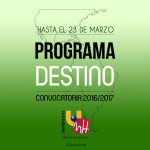 The Vice Rectorate for International Relations of the Miguel Hernández University of Elche (UMH) has announced the call for the student Destino program to promote UMH undergraduate student mobility to foreign universities outside the European Higher Education Area.
Interested students may apply for both Destino program financing modalities: UMH Destino Grants in addition to Iberoamérica Santander Grants. The list of universities in both financing modalities varies, as well as the number of places available (in the case of UMH grants, there are 10; for Banco Santander, there are 15), but the financial assistance is the same. Applying for a grant in both calls increases the possibilities of being awarded one.
Printed applications must be submitted to the UMH Office of Documentation, Archives and Registry or any of the university's auxiliary registries along with the remaining documentation the call establishes, until March 23, 2016.
For further information and to access the call texts, click here.