Definitive list of Applications Admitted and Excluded from the Call to Award Final Degree & Master's Projects that Promote the SDGs and the 'P' of Prosperity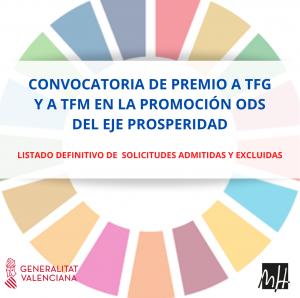 The Vice Rectorate for International Relations at the Miguel Hernández University of Elche has published the definitive list of applications admitted and excluded from the call to award Final Degree & Master's projects that promote the SDGs and the 'P' of Prosperity
Click here to access the list.
Further information about the call is available here.
'P' of Prosperity and the other '5 Ps'
More specifically, Prosperity is based on Sustainable Development Goals 7 thru 11:
GOAL 7: Affordable and Clean Energy
GOAL 8: Decent Work and Economic Growth
GOAL 9: Industry, Innovation and Infrastructure
GOAL 10: Reduced Inequality
GOAL 11: Sustainable Cities and Communities
Further information about the Sustainable Development Goals is available here.