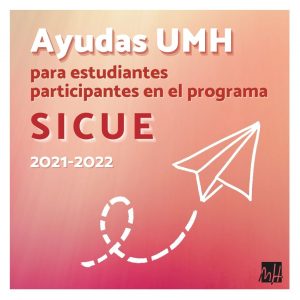 The Vice Rectorate for International Relations at the Miguel Hernández University of Elche (UMH) has hereby announced a call whereby the UMH will provide financial support for students who participate in the SICUE national mobility program during the 2021/2022 school year.
The period for submitting applications begins on September 16 and then runs for ten (10) working days afterwards.
Information about this call can be located at the link for UMH 2021/2022 SICUE Financial Support.
Further information about this program is available by clicking SICUE 2021/2022.