Virtual welcome for 2022 spring semester incoming students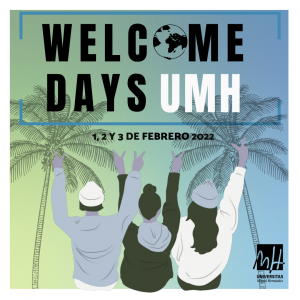 The Vice Rectorate for International Relations at the Miguel Hernández of Elche is holding its Welcome Days workshops for 2022 spring semester incoming students. This online event is taking place February 1, 2, and 3, 2022.
Over three days during the first week of February, different workshops will be held from 9:30 – 11:00 CET during which time incoming students can learn about the UMH, its student services, the personnel managing them, the possibilities for finding housing accommodations, athletic and health facilities, university libraries, cafeterias, restaurants, etc. Moreover, workshop participants will discover cultural offerings and the Club Erasmus, which helps them integrate and meet their classmates during their stay.
The workshops are being held virtually over Google Meet, and will each last 90 minutes.
If you are an incoming student to the UMH for 2022 spring semester and are interested in participating in the Welcome Days workshops, all you need to do is register. You will then receive an invitation to join the daily Meet sessions taking place February 1, 2, and 3.
For more information and to register for this event, go to
https://internacional.umh.es/incoming/
Looking forward to seeing you online on February 1!