Volunteerism Promotion Workshops XVII at the UMH
| | | |
| --- | --- | --- |
| April 6, 2022 10:00 am | a | April 7, 2022 11:30 am |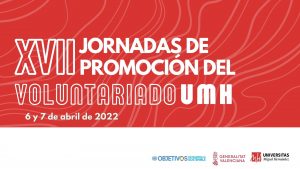 IMPORTANT ANNOUNCEMENT (January 10, 2022)
The pandemic has forced the workshop dates to be changed. The new dates are April 6 & 7, 2022.
The Service of International Relations, Development Cooperation and Volunteerism at the Miguel Hernández University of Elche is proud to hold the Volunteerism Promotion Workshops XVII at the UMH. The slogan for this event is 21st Century Volunteerism.
This event is going to be held April 6 & 7, 2022 in the Aula Magna of the Altabix Building. It will feature roundtables, conferences, associations related to development cooperation and volunteerism will be present, and there will be many other activities.
These workshops are intended for the university community as well as all interested individuals. Admission is free and attendants may earn transversal competency credits.
Further information about the program and interested individuals may register to attend at the following link: internacional.umh.es/cooperacion-y-voluntariado/formacion-en-voluntariado/eventos/
The registration period will be announced soon. Please be attentive to social media and this website.