Volunteerism Promotion Conference XVII at the UMH
| | | |
| --- | --- | --- |
| April 6, 2022 10:00 am | a | April 7, 2022 11:30 am |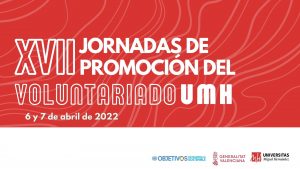 The Area of Development Cooperation and Volunteerism at the Miguel Hernández University of Elche is proud to hold the Volunteerism Promotion Conference XVII at the UMH. The slogan for this edition is 21st Century Volunteerism.
This event is going to be held April 6 & 7, 2022 in the Aula Magna of the Altabix Building. It will feature roundtables, conferences, workshops, and much more. Each day will also offer a fair of associations.
The registration period is open through March 20, 2022. Click this link for the registration form.
These conference is free of charge and everybody is welcome to attend regardless of whether they have any affiliation to the university or not. Workshop attendants may also earn transversal competency credits.
Further information about the program and interested individuals may register to attend at the following link: