21st Meeting of Rectors of the Tordesillas Group launches website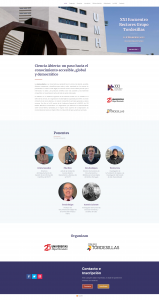 The 21st Meeting of Rectors of the Tordesillas Group, which is taking place at the Miguel Hernández university of Elche (UMH) November 6 – 8, 2022, has launched its new website. It contains all important information related to this event, its speakers, and the links for registering for the event.
This website represents yet another tool for publicizing this important event that is being presided over by the UMH. The motto for this edition of the event is "Open Science: A Step Towards Accessible, Global and Democratic Knowledge," and it is bringing together some of the most important academics from Brazil, Portugal, and Spain in open science, and in it they will discuss this topic and create an enriching space for debate for the entire Iberosphere. The new website also features detailed information about each of the speakers who are participating in this international event.