UMH welcomes students from EMOTION Erasmus Mundus Master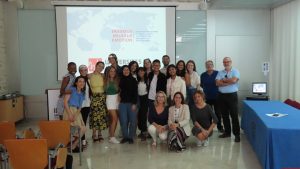 The Miguel Hernández University of Elche (UMH) welcomed students from the European Master on Translational Cosmetic and Dermatological Sciences (EMOTION).
The students were received in the Von Humboldt Seminar Room in the Torregaitan Building on the Elche Campus. Representatives from the UMH included Internationalization Director, José Manuel Blanes Martínez; EMOTION Master coordinator, Asia Fernández; and Director of the Service of International Relations, Development Cooperation, and Volunteerism, Inmaculada Blaya.
The group, comprised of students from countries that include Brazil, United States, Philippines, Indonesia, and Jordan, toured the facilities where they are going to undergo their academic and training activities. Then, they visited the main buildings on the Elche Campus and its sporting facilities, libraries, green spaces, and cafeterias. In addition to this morning's welcome, the students are going to take a guided tour and see the city of Elche's central and interesting locations, including the Palm Grove Forest and the historical city center.
This master aims to train future generations of professionals and scientists on translational skills and instill them with the skills and expertise necessary for working in the field of R&D for cosmetics and dermatological products. To attain this goal, the master program consortium has been designed and structured to incorporate scientists, faculty, and specialists with complementary knowhow on this interdisciplinary field.
Other institutions in the master consortium include the University of Eastern Piedmont (Italy), Charité University of Berlin (Germany), and the University of Namur (Belgium). Firms from the pharmaceutical and cosmetic sectors are also participating, and these enable program students to conduct internships and complete their final master's projects on those premises.